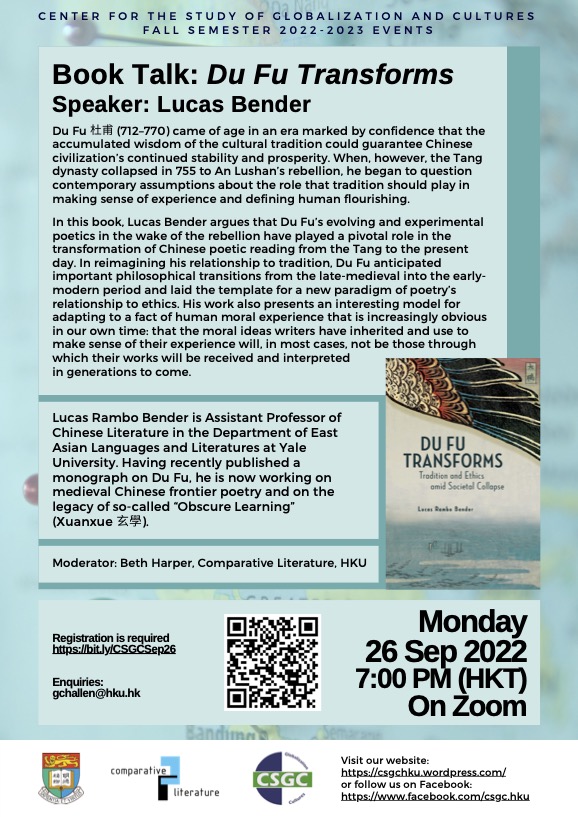 Time
7:00 pm - 8:30 pm
Labels
Department of Comparative Literature
Department of Comparative Literature
Book Talk: Du Fu Transforms
 Speaker:
Dr. Lucas Bender, Assistant Professor of Chinese Literature, Department of East Asian Languages and Literatures, Yale University
Moderator: Dr. Beth Harper, Assistant Professor, Department of Comparative Literature, School of Humanities, HKU
Date: Monday, September 26, 2022
Time: 7:00 pm (Hong Kong Time)
Venue: On Zoom
All are welcome. Registration is required.
Du Fu 杜甫 (712–770) came of age in an era marked by confidence that the accumulated wisdom of the cultural tradition could guarantee Chinese civilization's continued stability and prosperity. When, however, the Tang dynasty collapsed in 755 to An Lushan's rebellion, he began to question contemporary assumptions about the role that tradition should play in making sense of experience and defining human flourishing.
In this book, Lucas Bender argues that Du Fu's evolving and experimental poetics in the wake of the rebellion have played a pivotal role in the transformation of Chinese poetic reading from the Tang to the present day. In reimagining his relationship to tradition, Du Fu anticipated important philosophical transitions from the late-medieval into the early-modern period and laid the template for a new paradigm of poetry's relationship to ethics. His work also presents an interesting model for adapting to a fact of human moral experience that is increasingly obvious in our own time: that the moral ideas writers have inherited and use to make sense of their experience will, in most cases, not be those through which their works will be received and interpreted in generations to come.
Lucas Rambo Bender is Assistant Professor of Chinese Literature in the Department of East Asian Languages and Literatures at Yale University. Having recently published a monograph on Du Fu, he is now working on medieval Chinese frontier poetry and on the legacy of so-called "Obscure Learning" (Xuanxue 玄學).
Enquiries: Georgina Challen – gchallen@hku.hk