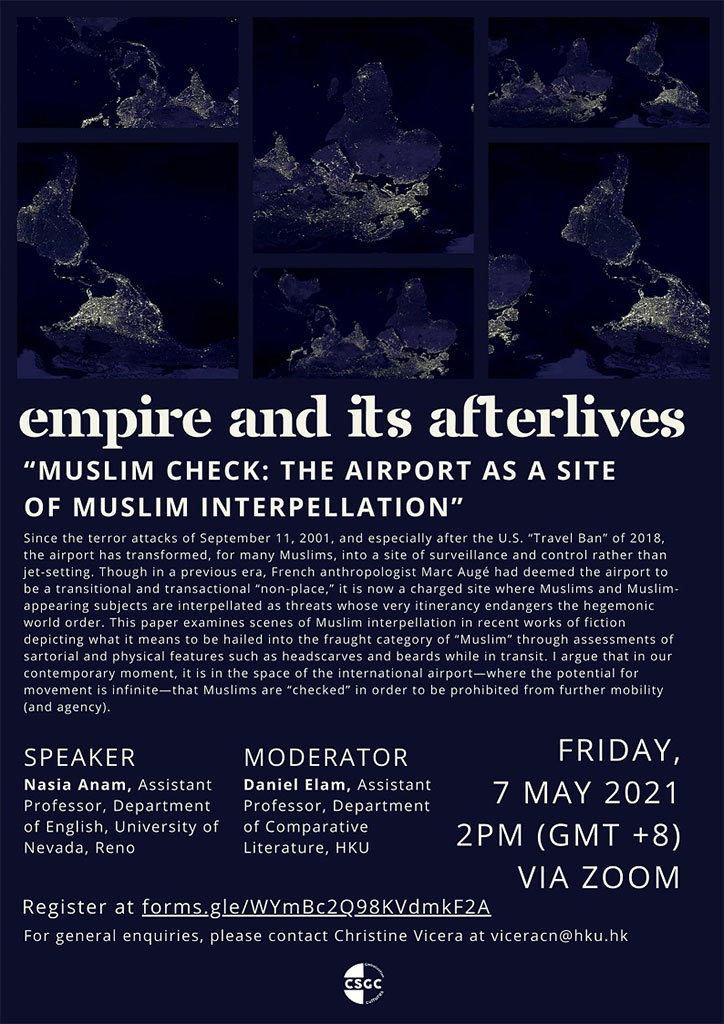 Time
2:00 pm
Labels
Department of Comparative Literature
Department of Comparative Literature
Center for the Study of Globalization and Cultures
Empire and Its Afterlives – "Muslim Check: The Airport as a Site of Muslim Interpellation"
Date: Friday, 7 May 2021
Time: 2 PM HK Time (GMT +8)
Speaker: Nasia Anam
Since the terror attacks of September 11, 2001, and especially after the U.S. "Travel Ban" of 2018, the airport has transformed, for many Muslims, into a site of surveillance and control rather than jet-setting. Though in a previous era, French anthropologist Marc Augé had deemed the airport to be a transitional and transactional "non-place," it is now a charged site where Muslims and Muslim-appearing subjects are interpellated as threats whose very itinerancy endangers the hegemonic world order. This paper examines scenes of Muslim interpellation in recent works of fiction depicting what it means to be hailed into the fraught category of "Muslim" through assessments of sartorial and physical features such as headscarves and beards while in transit. I argue that in our contemporary moment, it is in the space of the international airport—where the potential for movement is infinite—that Muslims are "checked" in order to be prohibited from further mobility (and agency).
ABOUT THE SPEAKER
Nasia Anam is Assistant Professor of English and Global Anglophone Literature at the University of Nevada, Reno. Her current book project, "Muslim Heterotopias: Colonial Logics of Space in Literatures of Migration," centers on the figure of the Muslim migrant and the spatial legacies of colonization in contemporary Anglophone and Francophone literature. Her writing and reviews have appeared in The Journal of Narrative Theory, Interventions, ASAP/Journal, Verge: Studies in Global Asias, and The Los Angeles Review of Books.
Please register at https://forms.gle/QLyAahvy4SoCDorg8 for Zoom details.
Please register at the link above. The Zoom link will be sent to you a day before the event.
For enquiries, please contact Christine Vicera at viceracn@hku.hk