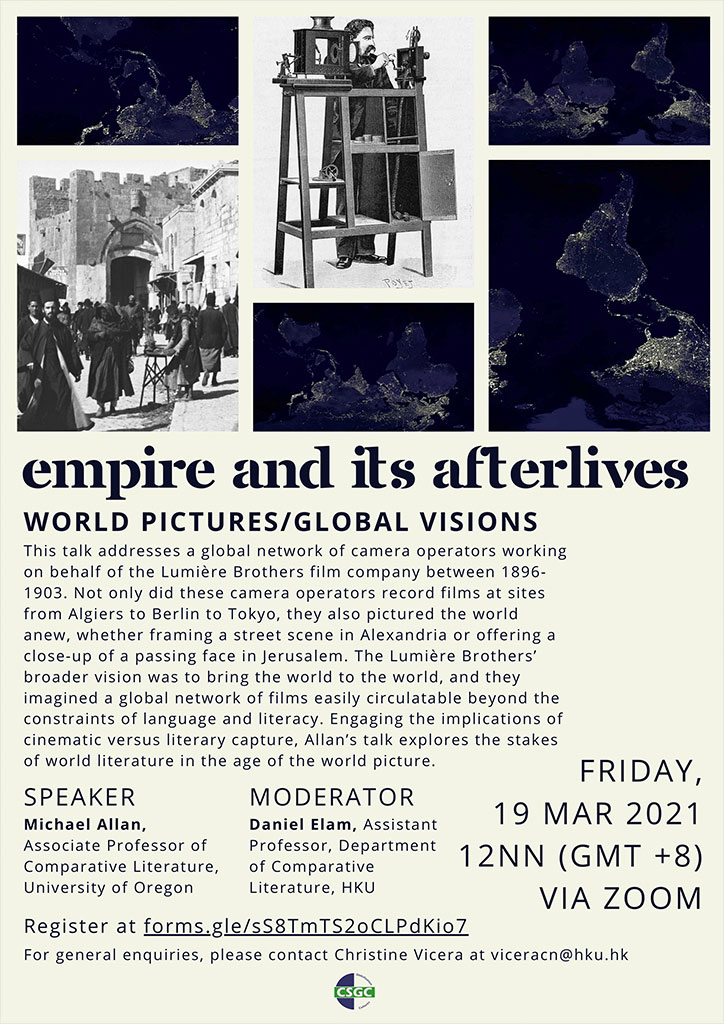 Time
12:00 pm
Labels
Department of Comparative Literature
Department of Comparative Literature
Center for the Study of Globalization and Cultures
Empire and Its Afterlives: World Pictures/Global Visions
Date: Friday, 19 March 2021
Time: 12NN (GMT +8)
Speaker: Michael Allan, Associate Professor of Comparative Literature, University of Oregon
Please register at https://forms.gle/sS8TmTS2oCLPdKio7 for Zoom Meeting ID
This talk addresses a global network of camera operators working on behalf of the Lumière Brothers film company between 1896-1903. Not only did these camera operators record films at sites from Algiers to Berlin to Tokyo, they also pictured the world anew, whether framing a street scene in Alexandria or offering a close-up of a passing face in Jerusalem. The Lumière Brothers' broader vision was to bring the world to the world, and they imagined a global network of films easily circulatable beyond the constraints of language and literacy. Engaging the implications of cinematic versus literary capture, Allan's talk explores the stakes of world literature in the age of the world picture.
About the Speaker
Michael is Associate Professor of Comparative Literature at the University of Oregon, and editor of the journal Comparative Literature. His research focuses on debates in world literature, postcolonial studies, literary theory, as well as film and visual culture, primarily in Africa and the Middle East. In both his research and teaching, he bridges textual analysis with social theory, and draws from methods in anthropology, religion, queer theory, and area studies. He is the author of In the Shadow of World Literature: Sites of Reading in Colonial Egypt (Princeton 2016, Co-Winner of the MLA Prize for a First Book) and a guest editor of a special issue of Comparative Literature ("Reading Secularism: Religion, Literature, Aesthetics"), and with Elisabetta Benigni, an issue of Philological Encounters ("Lingua Franca: Toward a Philology of the Sea"). He is at work on a second book, Picturing the World: The Global Routes of Early Cinema, 1896-1903, which traces the transnational history of camera operators working for the Lumière Brothers film company.
Moderator: Daniel Elam
Dr. J. Daniel Elam is an assistant professor in Comparative Literature at the University of Hong Kong. In 2018-2019, he was a Fellow in the Society for the Humanities at Cornell University. He has previously taught at the University of Toronto and was the Mellon Sawyer Seminar Postdoctoral Fellow in 'Bibliomigrancy' at the University of Wisconsin-Madison. Daniel specialises in transnational Asian and African literatures in the twentieth century, modernism, postcolonial theory, and global intellectual history. He works on literature from the 'global south', with a focus on anticolonial movements in British Empire. He also works Black American anti-racist thought in the 1920s and 1930s, Third World solidarity movements during the Cold War, and anti-Apartheid activism in South Africa in the 1960s-1980s. He has written on Bhagat Singh, M.K. Gandhi, B.R. Ambedkar, W.E.B. Du Bois, Emma Goldman, and other figures. He has published essays in many journals, including Postcolonial Studies, Interventions, and PMLA. More information about his work can be found at www.jdelam.com
Please register at the link above. The Zoom link will be sent to you a day before the event.
For enquiries, please contact Christine Vicera at viceracn@hku.hk