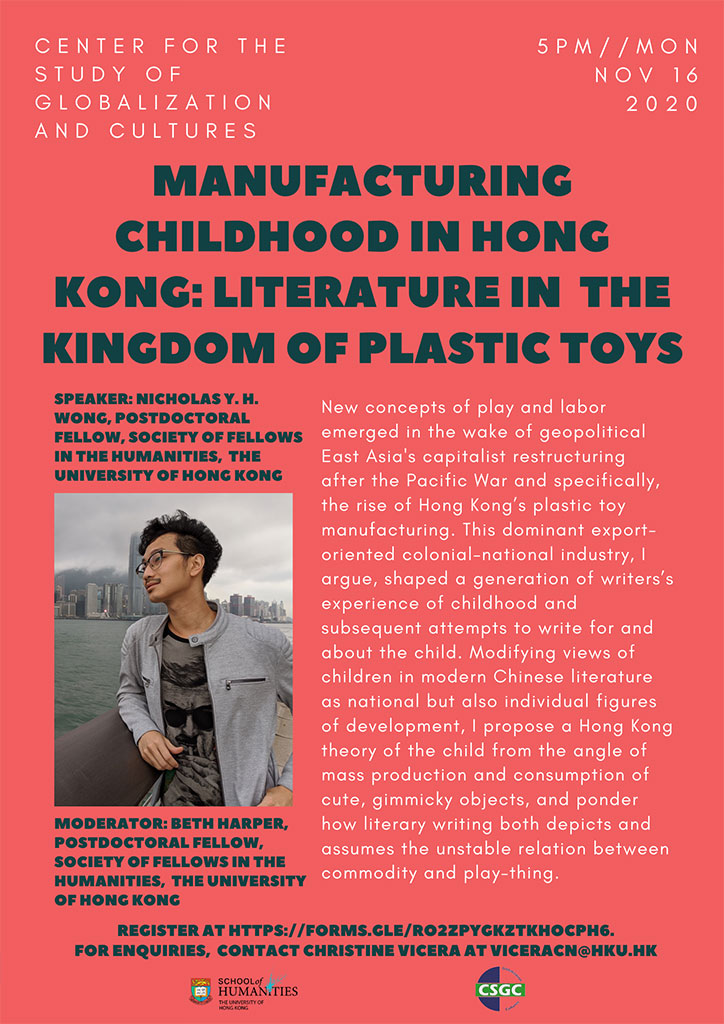 Time
5:00 pm
Labels
Department of Comparative Literature
Department of Comparative Literature
Manufacturing Childhood in Hong Kong: Literature in the Kingdom of Plastic Toys
Date: Monday, 16 November 2020
Time: 5 PM (GMT +8)
Speaker: Nicholas Y. H. Wong, Postdoctoral Fellow in the Society of Fellows in the Humanities, The University of Hong Kong
Please register at https://forms.gle/rvUvtmkKCVt1Rs2k6 for Zoom Meeting ID
New concepts of play and labor emerged in the wake of geopolitical East Asia's capitalist restructuring after the Pacific War and specifically, the rise of Hong Kong's plastic toy manufacturing. This dominant export-oriented colonial-national industry, I argue, shaped a generation of writers's experience of childhood and subsequent attempts to write for and about the child. Modifying views of children in modern Chinese literature as national but also individual figures of development, I propose a Hong Kong theory of the child from the angle of mass production and consumption of cute, gimmicky objects, and ponder how literary writing both depicts and assumes the unstable relation between commodity and play-thing.
About the speaker:
Nicholas Y. H. Wong holds a PhD in Comparative Literature from the University of Chicago. As a postdoctoral fellow in the Society of Fellows in the Humanities at the University of Hong Kong, he will deepen his study of global networks of commodities and industries as they transact the writing of literary history. His current book project examines the impact of tin and rubber on the Malay Peninsula and the aesthetic forms of minority relations and differences they generate in Chinese-language writing. In short, he​ is writing a materialist and geoeconomic history of Mahua literature and intellectual culture.
Moderator: Beth Harper, Postdoctoral Fellow, Society of Fellows in the Humanities at the University of Hong Kong
Please register at the link above. The Zoom link will be sent to you a day before the event.
For enquiries, please contact Christine Vicera at viceracn@hku.hk