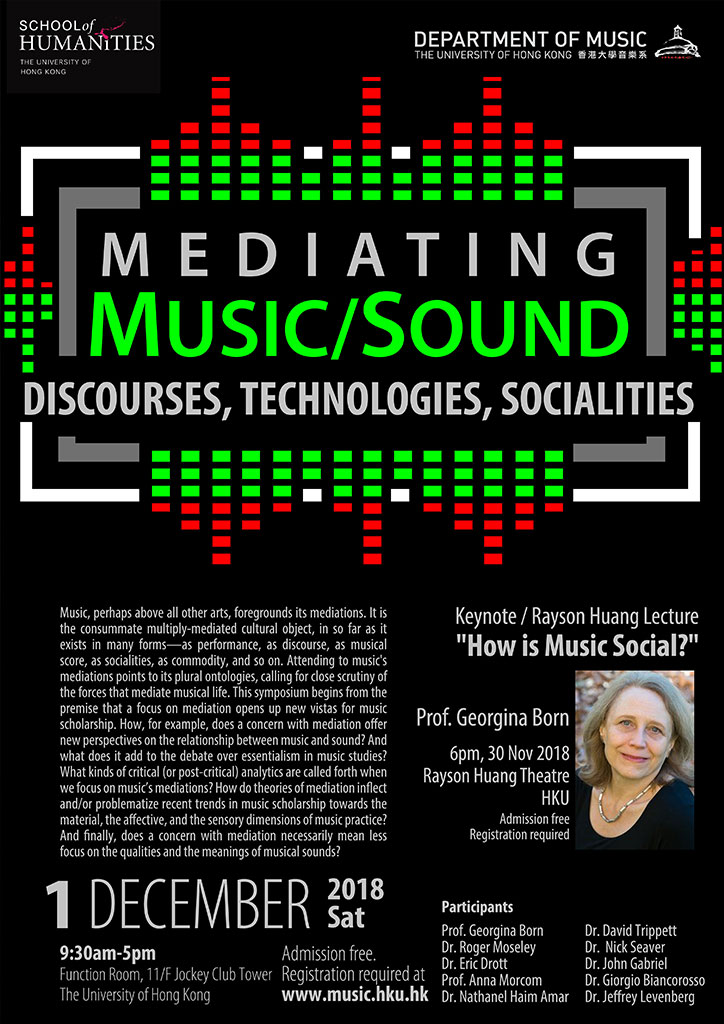 Date
Dec 01 2018
Time
9:30 am - 5:00 pm
Labels
Department of Music
Department of Music
HKU Symposium:
Mediating Music/Sound: Discourses, Technologies, Socialities
Event Details
Date/Time: 1/12/2018 09:30-5:00pm
Venue: Function Room, 11/F, Jockey Club Tower, The University of Hong Kong
Abstract:
Music, perhaps above all other arts, foregrounds its mediations. It is the consummate multiply-mediated cultural object, in so far as it exists in many forms—as performance, as discourse, as musical score, as socialities, as commodity, and so on. Moreover, attending to music's mediations points to its plural ontologies, calling for close scrutiny of the forces that mediate musical life. This symposium begins from the premise that a focus on mediation opens up new vistas for music scholarship. How, for example, does a concern with mediation offer new perspectives on the relationship between music and sound? And what does it add to the debate over essentialism in music studies? What kinds of critical (or post-critical) analytics are called forth when we focus on music's mediations? How do theories of mediation inflect and/or problematize recent trends in music scholarship towards the material, the affective, and the sensory dimensions of music practice? And finally, does a concern with mediation necessarily mean less focus on the qualities and the meanings of musical sounds?
Admission is free. Please click here to register.
For enquiry, please contact the Department of Music at 3917-7045 or music@hku.hk