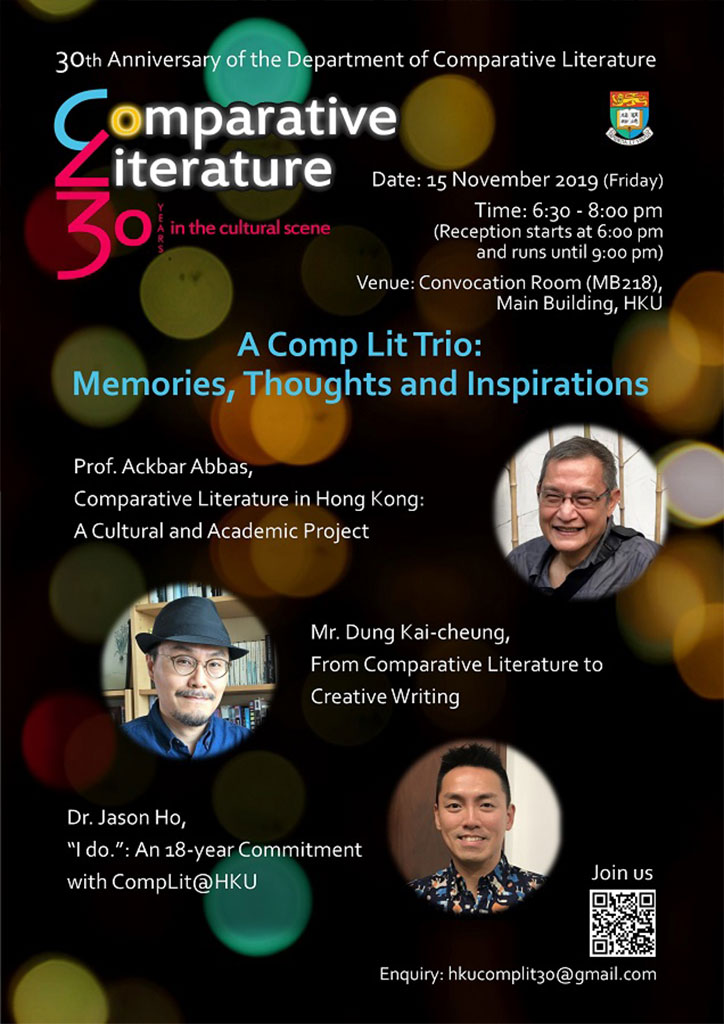 Time
6:30 pm - 8:00 pm
Labels
Department of Comparative Literature
Department of Comparative Literature (Cancelled)
*** This event is cancelled. We will reschedule it at a later date. ***
30th Anniversary of Comp Lit: Homecoming Event
2019 marks Comparative Literature's 30th Anniversary. To celebrate, we are sharing some of our favourite memories and holding special events throughout the year. We are also connecting alumni and faculty who have taken the journey with us. There will be two upcoming events in November.
A photo exhibition entitled "Illuminating the past and present: 12 milestones in the spotlight" will be on display from 11 November – 22 November 2019 at the G/F Gallery, Run Run Shaw Tower, HKU. The exhibit highlights 12 important events and establishments that have shaped our past and present. It also showcases valuable photos from the earliest days of the Department, taking us on a journey through time as we revisit moments that exemplify the characteristics and values of Comp Lit.
On 15 November 2019 (Friday), Prof. Ackbar Abbas, writer Dung Kai-cheung and Dr. Jason Ho will share with us their remembrances of Comp Lit in our homecoming event: "A Comp Lit Trio: Memories, Thoughts and Inspirations".
Prof. Ackbar Abbas,
Comparative Literature in Hong Kong: A Cultural and Academic Project
Mr. Dung Kai-cheung,
From Comparative Literature to Creative Writing
Dr. Jason Ho,
"I do.": An 18-year Commitment with CompLit@HKU
Details of the event are as follows:
Date: 15 November 2019 (Friday)
Time: 6:30 – 8:00 pm (Reception starts at 6:00 pm and runs until 9:00 pm)
Venue: Convocation Room (MB218), Main Building, HKU
Please RSVP by 10 November 2019 (https://forms.gle/pST8aV9Lpbac1qBB9 )