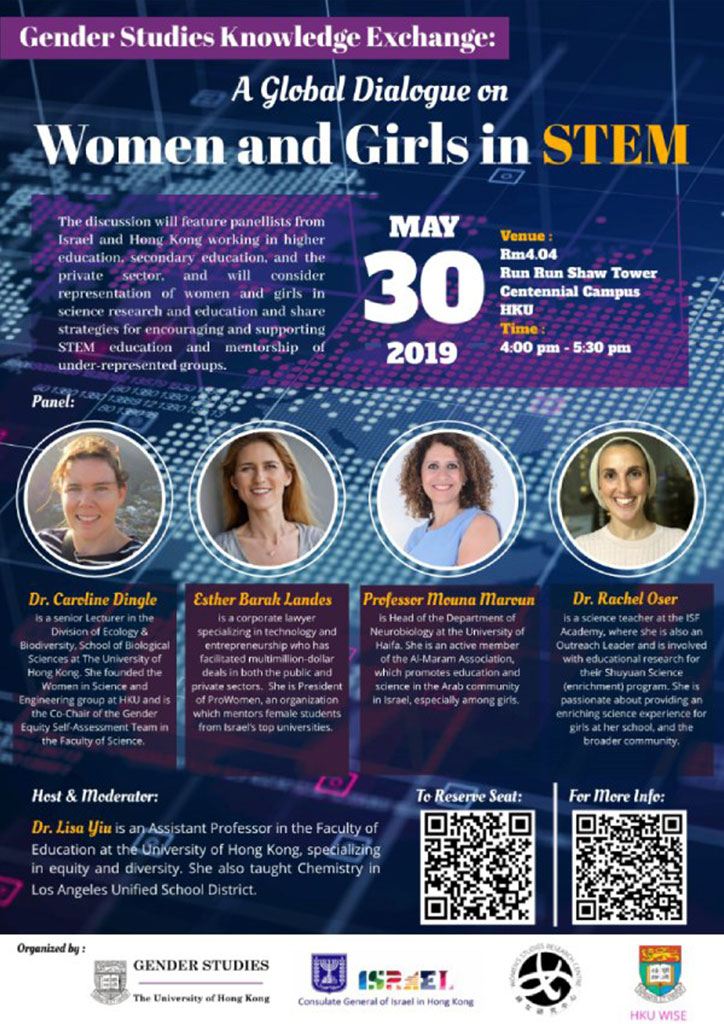 Time
4:00 pm - 5:30 pm
Labels
Gender Studies Programme
Gender Studies Programme
Consulate General of Israel in Hong Kong, Gender Studies Programme and Women's Studies Research Center and HKU Women in Science and Engineering present
A Global Dialogue on Women and Girls in STEM
Abstract
The discussion will feature panellists from Israel and Hong Kong working in higher education, secondary education, and the private sector, and will consider representation of women and girls in science research and education and share strategies for encouraging and supporting STEM education and mentorship of under- represented groups.
Panel
Dr. Caroline Dingle is a Senior Lecturer in the Division of Ecology & Biodiversity, School of Biological Sciences and the Major Coordinator for the Environmental Science Major at The University of Hong Kong. As a biologist, she is interested in understanding the impacts of human activities on wildlife; her current research projects focus on urban ecology and wildlife trade. Caroline is a passionate supporter of gender equity in STEM subjects and to this end founded the Women in Science and Engineering group at HKU and is the Co-Chair of the Gender Equity Self-Assessment Team in the Faculty of Science.
Esther Barak Landes is a veteran tech dealmaker, holding a prolific track record of over two decades spearheading and investing in more than 70 disruptive Israeli startups and PE companies. A commercial and corporate lawyer with an MBA specializing in entrepreneurship, she has facilitated multimillion-dollar deals in both the public and private sectors, and established groundbreaking funding channels for early-stage companies in partnership with leading Israeli and international VCs and LPs. Esther has garnered much success through numerous M&As and IPOs, some of which are estimated in excess of billions of dollars. She serves on the boards of dozens of public and private companies, including Israel's leading insurance company, and is the business and investment advisor for many of Israel's most forward-thinking companies. Out of her deep conviction that challenges should serve as a springboard for progress, Esther promotes inclusiveness by creating advanced tech ecosystems in peripheral regions, and leverages mentoring, education, and business opportunities to champion women empowerment and female leadership.
Professor Mouna Maroun, Head of the Department of Neurobiology at the University of Haifa, engages in brain research – neurobiology of learning and memory and the study of emotions. Her research is dedicated to exploring how our behavior is affected by brain activities and the underlying neural mechanisms influencing phobias, such as post-traumatic stress. She grew up in an Arab Maronite Christian family and is an active member of the Al-Maram Association, which promotes education and science in the Arab community in Israel and especially among girls.
Dr. Rachel Oser is a practitioner with over 15 years of combined experience in US (public sector) and Hong Kong (private sector) secondary classrooms. She currently works as a Science teacher at the ISF Academy, where she is also an Outreach Leader and is involved with educational research for their Shuyuan Science (enrichment) program. Her PhD dissertation (Curtin University, Australia) investigated the effects of virtual laboratories. Rachel is passionate about providing an enriching science experience for girls at her school, and the broader community. She also offers programming for women in the Jewish community in which she has a leadership role.
Moderator
Dr. Lisa Yiu is an assistant professor at the University of Hong Kong, Faculty of Education. Her equity-focused work in Asia examines issues of diversity and inclusion, as well as the impact of educational reforms on schooling— particularly the role of teachers. Using both qualitative and quantitative methodologies, her work is motivated and critically enriched by her experiences as an inner-city Chemistry teacher in Los Angeles Unified School District. ​
Date: Thursday 30 May 2019
Time: 4:00pm – 5:30pm
Venue: Rm4.04, 4/F, Run Run Shaw Tower, Centennial Campus, HKU
All are welcome. Spaces are limited.
Please register online HERE
For inquires: genderst@hku.hk/ 39174182
For further information, please visit: https://genderstudies.hku.hk/events/a-global-dialogue-on-women-and-girls-in-stem/