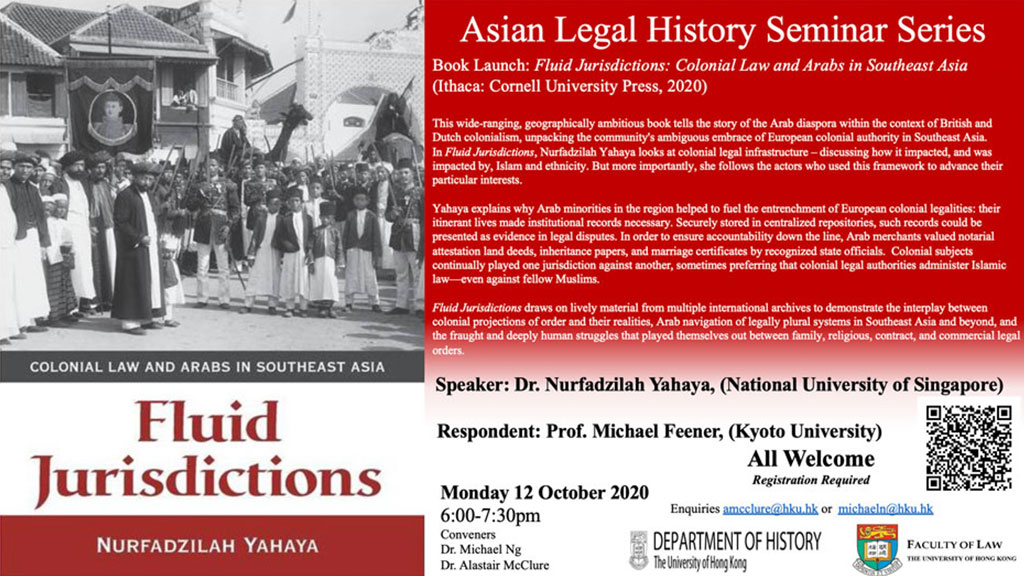 Time
6:00 pm - 7:30 pm
Labels
Department of History
Department of History
Asian Legal History Seminar Series – Fluid Jurisdictions
Speaker: Dr. Nurfadzilah Yahaya
(National University of Singapore)
Respondent: Prof. Michael Feener
(Kyoto University)
We would like to invite you to join us for a new seminar series in Asian Legal History, organised jointly by the Department of History and the Faculty of Law.
Our first event will be a book launch for Dr. Nurfadzilah Yahaya's recent publication, Fluid Jurisdictions: Colonial Law and Arabs in Southeast Asia (Ithaca: Cornell University Press, 2020).Dr. Nurfadzilah Yahaya is a legal historian of the Indian Ocean, and Assistant Professor at the History Department, National University of Singapore (NUS). She specialises in the legal history of Southeast Asia, Islamic law and mobilities.
She will be joined by Prof. Michael Feener, Professor of History in Kyoto University. Professor Feener is an expert in the history of Islamic societies whose research has particularly focused on legal thought in Southeast Asia and the Indian Ocean World.
The event is scheduled for Monday 12 October, 6-730pm (HKT). For all those interested in attending, please register here to receive the Zoom link. For further information please see the event poster below.
ALL ARE WELCOME
(Registration Required)
Conveners
Dr. Michael Ng
Dr. Alastair McClure