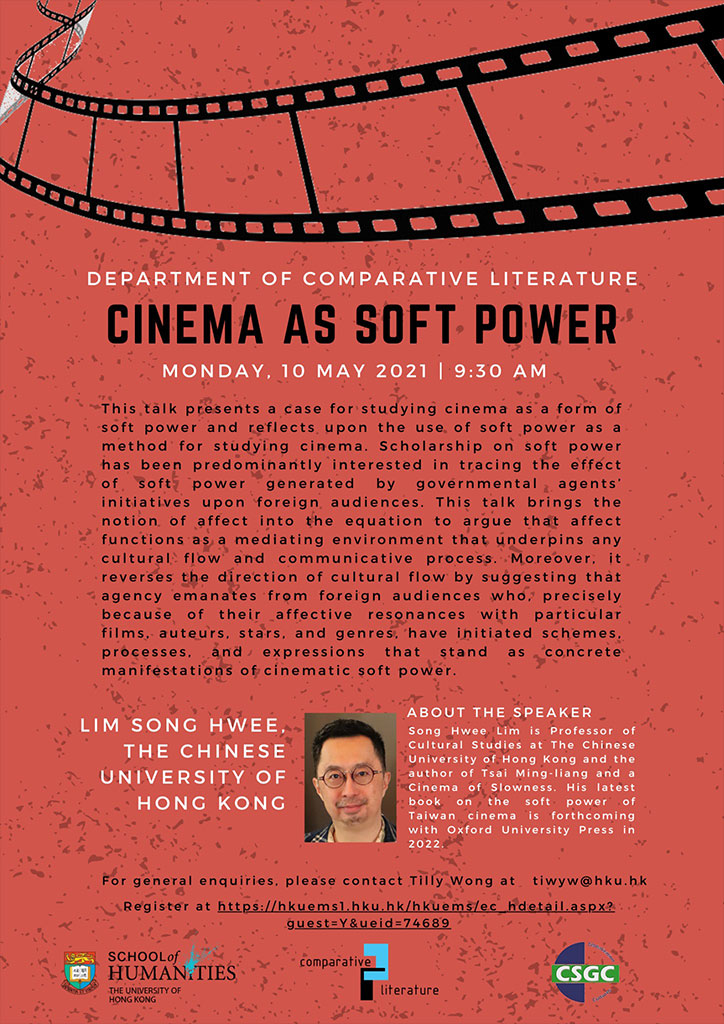 Time
9:30 am - 10:45 am
Labels
Department of Comparative Literature
Department of Comparative Literature
Cinema as Soft Power
Date: Monday, 10 May 2021
Time: 9:30 AM HK Time (GMT +8)
Speaker: Lim Song Hwee
This talk presents a case for studying cinema as a form of soft power and reflects upon the use of soft power as a method for studying cinema. Scholarship on soft power has been predominantly interested in tracing the effect of soft power generated by governmental agents' initiatives upon foreign audiences. This talk brings the notion of affect into the equation to argue that affect functions as a mediating environment that underpins any cultural flow and communicative process. Moreover, it reverses the direction of cultural flow by suggesting that agency emanates from foreign audiences who, precisely because of their affective resonances with particular films, auteurs, stars, and genres, have initiated schemes, processes, and expressions that stand as concrete manifestations of cinematic soft power.​
ABOUT THE SPEAKER
Song Hwee Lim is Professor of Cultural Studies at The Chinese University of Hong Kong and the author of Tsai Ming-liang and a Cinema of Slowness. His latest book on the soft power of Taiwan cinema is forthcoming with Oxford University Press in 2022.
Please register at https://hkuems1.hku.hk/hkuems/ec_hdetail.aspx?guest=Y&ueid=74689 for Zoom details.
For general enquiries, please contact Tilly Wong at tiwyw@hku.hk