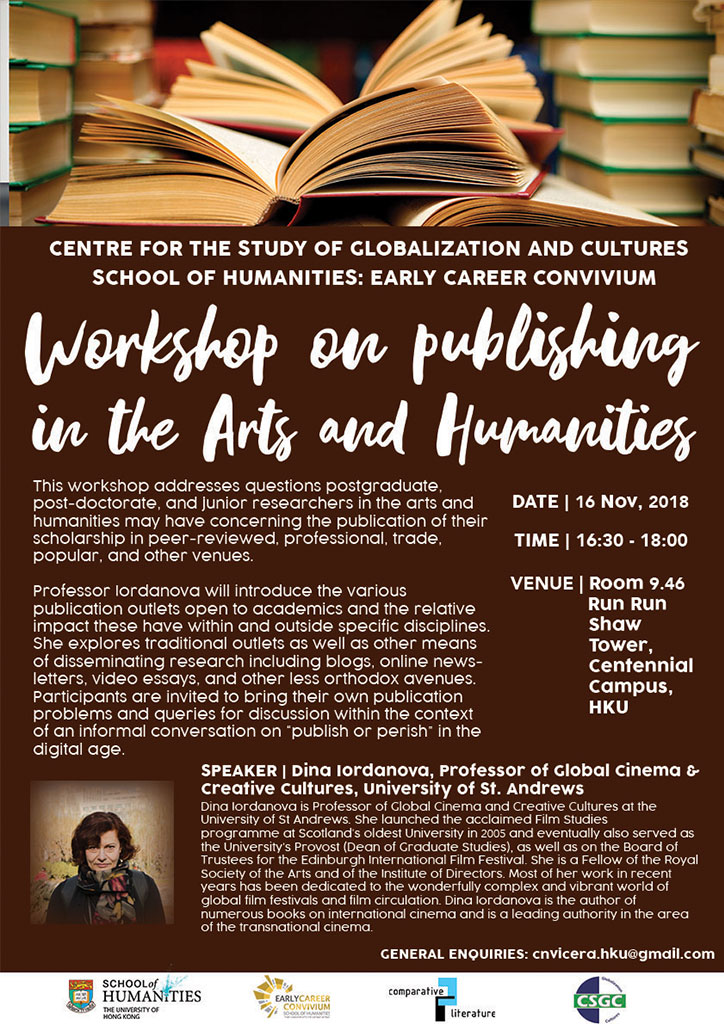 Time
4:30 pm - 6:00 pm
Labels
School of Humanities: Early Career Convivium
School of Humanities: Early Career Convivium
Centre for the Study of Globalization and Cultures
School of Humanities: Early Career Convivium
Workshop on Publishing in the Arts and Humanities
This workshop addresses questions postgraduate, post-doctorate, and junior researchers in the arts and humanities may have concerning the publication of their scholarship in peer-reviewed, professional, trade, popular, and other venues.
Professor Lordanova will introduce the various publication outlets open to academics and the relative impact these have within and outside specific disciplines. She explores traditional outlets as well as other means of disseminating research including blogs, online news-letters, video essays, and other less orthodox avenues. Participants are invited to bring their own publication problems and queries for discussion within the context of an informal conversation on "publish or perish" in the digital age.
Speaker: Dina Iordanova
Professor of Global Cinema & Creative Cultures, University of St. Andrews
Dina Iordanova is Professor of Global Cinema and Creative Cultures at the University of St Andrews. She launched the acclaimed Film Studies programme at Scotland's oldest University in 2005 and eventually also served as the University's Provost (Dean of Graduate Studies), as well as on the Board of Trustees for the Edinburgh international Film Festival. She is a Fellow of the Royal Society of the Arts and of the Institute of Directors. Most of her work in recent years has been dedicated to the wonderfully complex and vibrant world of global film festivals and film circulation. Dina Iordanova is the authority in the area of the transnational cinema.
Date: 16 Nov, 2018
Time: 16:30-18:00
Venue: Room 9.46, Run Run Shaw Tower, Centennial Campus, HKU
General Enquiries: cnvicera.hku@gmail.com