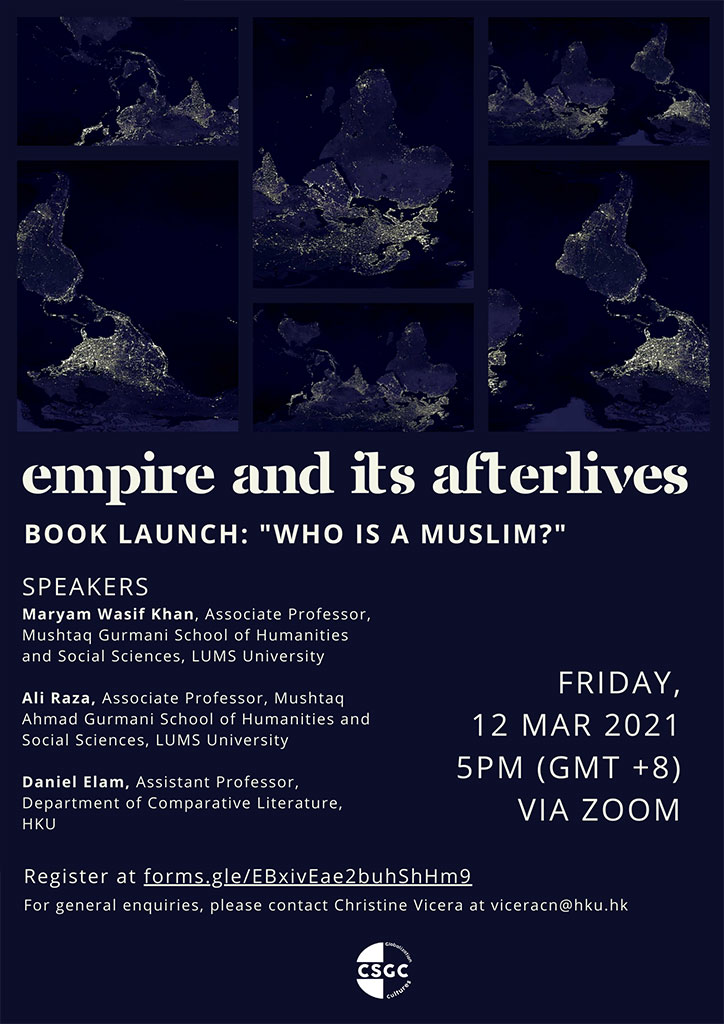 Time
5:00 pm
Labels
Department of Comparative Literature
Department of Comparative Literature
Center for the Study of Globalization and Cultures
Empire and Its Afterlives – Book Launch: "Who is a Muslim?"
Date: Friday, 12 March 2021
Time: 5 PM (GMT +8)
Speaker: Maryam Wasif Khan, Ali Raza, Daniel Elam
Please register at https://forms.gle/EBxivEae2buhShHm9 for Zoom Meeting ID
Who Is a Muslim? argues that modern Urdu literature, from its inception in colonial institutions such as Fort William College, Calcutta, to its dominant iterations in contemporary Pakistan—popular novels, short stories, television serials—is formed around a question that is and historically has been at the core of early modern and modern Western literatures. The question "Who is a Muslim?," a constant concern within eighteenth-century literary and scholarly orientalist texts, the English oriental tale chief among them, takes on new and dangerous meanings once it travels to the North-Indian colony, and later to the newly formed Pakistan. A literary-historical study spanning some three centuries, this book argues that the idea of an Urdu canon, far from secular or progressive, has been shaped as the authority designate around the intertwined questions of piety, national identity, and citizenship.
Purchase "Who is a Muslim?" at: https://www.fordhampress.com/9780823290130/who-is-a-muslim/
About the Speakers
Maryam Wasif Khan
Maryam Wasif Khan is Associate Professor of Comparative Literary and Cultural Studies. She received her doctoral degree in Comparative Literature from the University of California, Los Angeles under the supervision of Professor Aamir Mufti. She also holds an A.B. in Comparative Literature (summa cum laude) from Princeton University. Her work on British orientalism, Muslim reform and nineteenth-century prose fiction in Urdu has appeared in Modern Fiction Studies (MFS), Modern Language Quarterly: A Journal of Literary History (MLQ) and PMLA. Her forthcoming book, Who is a Muslim? Orientalism and Vernacular Populisms, (Fordham University Press: 2020) argues against conventional methods of writing literary history for colonial vernaculars such as Urdu or Hindi. Suggesting that Urdu prose fiction from the moment of its inception at Fort William College is coded with certain Orientalist ideals of Muslim identity, the project demonstrates how this identity, in the contemporary moment, manifests as a powerful religio-populist literary impulse. A second project is envisioned as a series of essays and contemplations on the possibilities contained in the act of reading foundational European texts outside of the Academy.
Ali Raza
Ali Raza is a historian specializing in the history of modern South Asia. He received his DPhil from the University of Oxford and was a research fellow at the Leibniz-Zentrum Moderner Orient in Berlin. His research and teaching interests include the social and intellectual history of South Asia, comparative colonialisms, decolonization, and post-colonial theory. Ali Raza's work has appeared in Comparative Studies of South Asia, Africa, and the Middle East; South Asia: Journal of South Asian Studies; Itinerario; South Asian History and Culture; and Contemporary South Asia. He is also the co-editor of The Internationalist Moment: South Asia, Worlds, and World Views, 1917-39 (Sage 2014), and the author of Revolutionary Pasts: Communist Internationalism in Colonial India, forthcoming with Cambridge University Press.
Daniel Elam
Dr. J. Daniel Elam is an assistant professor in Comparative Literature at the University of Hong Kong. In 2018-2019, he was a Fellow in the Society for the Humanities at Cornell University. He has previously taught at the University of Toronto and was the Mellon Sawyer Seminar Postdoctoral Fellow in 'Bibliomigrancy' at the University of Wisconsin-Madison. Daniel specialises in transnational Asian and African literatures in the twentieth century, modernism, postcolonial theory, and global intellectual history. He works on literature from the 'global south', with a focus on anticolonial movements in British Empire. He also works Black American anti-racist thought in the 1920s and 1930s, Third World solidarity movements during the Cold War, and anti-Apartheid activism in South Africa in the 1960s-1980s. He has written on Bhagat Singh, M.K. Gandhi, B.R. Ambedkar, W.E.B. Du Bois, Emma Goldman, and other figures. He has published essays in many journals, including Postcolonial Studies, Interventions, and PMLA. More information about his work can be found at www.jdelam.com
Please register at the link above. The Zoom link will be sent to you a day before the event.
For enquiries, please contact Christine Vicera at viceracn@hku.hk