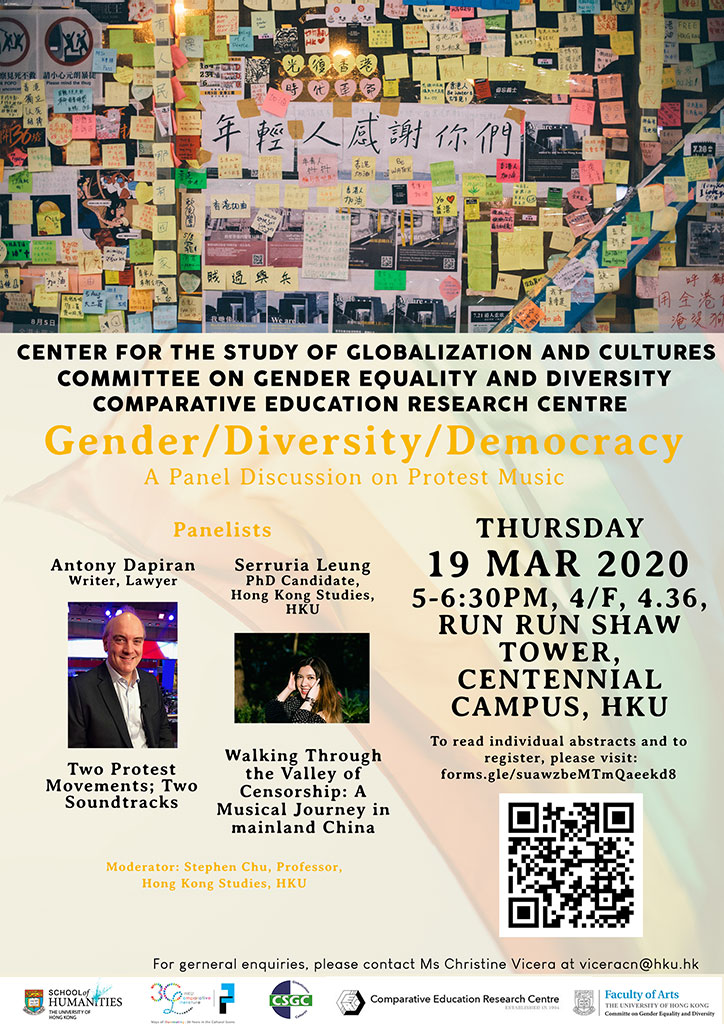 Time
5:00 pm - 6:30 pm
Labels
Department of Comparative Literature
Department of Comparative Literature
Gender/Diversity/Democracy: A Panel Discussion on Protest Music
Date: Thursday, 19 March 2020
Time: 5-6:30 PM
Venue: 4.36, 4/F, Run Run Shaw Tower, Centennial Campus, HKU
Speakers:
Antony Dapiran is a Hong Kong-based writer and lawyer, and the author of the best-selling book City of Protest: A Recent History of Dissent in Hong Kong. His forthcoming book, City on Fire: The Fight for Hong Kong, will be published by Scribe in the new year. Antony's writing has appeared in The Atlantic, New Statesman, Foreign Policy, Quartz, Art Asia Pacific, Mekong Review and The Guardian, among many others. A fluent Mandarin speaker, Antony has resided between Hong Kong and Beijing for over twenty years. He graduated from HKU with an MA (Literary & Cultural Studies) for which he was awarded the Esther MK Cheung Memorial Prize. Twitter @antd
Two Protest Movements; Two Soundtracks
Hong Kong political protest movements have been fertile ground for arts and culture, and music has been a key feature of many such protests. However, the soundtrack of this year's ongoing Hong Kong protest movement marks a somber turn from that of the Umbrella Movement in 2014. In this presentation Antony Dapiran use music as a touchstone to compare and contrast the two protest movements, and their respective utopian and dystopian themes.
Serruria Leung
Besides being a PhD candidate of Hong Kong Studies in the HKU, Leung is also a singer-songwriter across mainland China and Hong Kong. Her research interests include music and community-building, politics and arts, and the aesthetics of self-writing. She had been a music columnist for Ming Pao Weekly for two years and currently serves as the youth board member of the Renaissance Foundation Hong Kong. Ear Up China initiative appointed her as a music ambassador last year.
Walking Through the Valley of Censorship: A Musical Journey in mainland China
This presentation outlines a brief musical journey of the presenter as a musician performing in China for the past two years and the nuances she observed in the tightening censorship officially and from the "public sphere" in mainland China youth. This presentation tries to analyze the "little pinky" (young PRC patriots) perception of musical presences and her endeavor to bridge cross cultural communication of Chinese speakers from HK and the PRC. In observation of the music market up close as a music creator, the presenter hopes to offer an intimate angle in analyzing musical tactics and thus pluralizing social movement efforts to include hidden transcripts among small communities under the panopticon sphere of the PRC.
Moderator: Stephen Chu, Professor, Hong Kong Studies, HKU
To register, please visit: forms.gle/suawzbeMTmQaeekd8
For enquiries, please contact Christine Vicera at viceracn@hku.hk