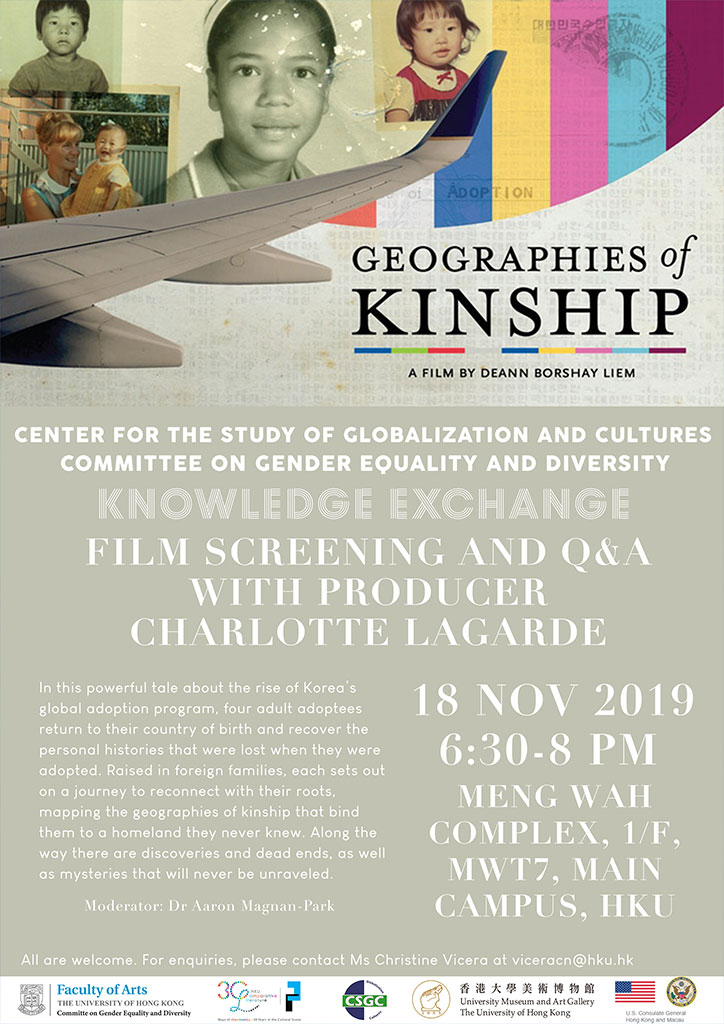 Time
6:30 pm - 8:00 pm
Labels
Department of Comparative Literature
Department of Comparative Literature
Geographies of Kinship Film Screening and Q&A with Producer Charlotte Lagarde
Date: 18 Nov 2019
Time: 6:30-8 PM
Venue: Meng Wah Complex, 1/F, MWT7, Main Campus, HKU
About Charlotte Lagarde:
Born in France, Charlotte Lagarde is a filmmaker whose work has aired on PBS series POV and Independent Lens, the Sundance Channel, HBO, and been exhibited at MASS MoCA. She is a Sundance, BAVC and Camargo Foundation fellow. Her latest project Colonial White premiered in the exhibit The Racial Imaginary Institute: On Whiteness at The Kitchen in NY. Lagarde's short film, Jen Bervin's Silk Poems, premiered at MASS MoCA. Bervin and Lagarde are currently collaborating on a new project filmed in Suzhou, China, titled Su Hui's Reversible Poem. Her producing credits include Deann Borshay Liem's In the Matter of Cha Jung Hee and Geographies of Kinship, and Carrie Lozano's Academy award-winning Reporter Zero, which premiered at the 2006 Berlin International Film Festival.
About the Film:
In this powerful tale about the rise of Korea's global adoption program, four adult adoptees return to their country of birth and recover the personal histories that were lost when they were adopted. Raised in foreign families, each sets out on a journey to reconnect with their roots, mapping the geographies of kinship that bind them to a homeland they never knew. Along the way there are discoveries and dead ends, as well as mysteries that will never be unraveled.
Trailer: https://www.youtube.com/watch?v=Ic_Ep4HDt9o
Moderator: Dr Aaron Magnan-Park
All are welcome. For enquiries, please contact Christine Vicera at viceracn@hku.hk