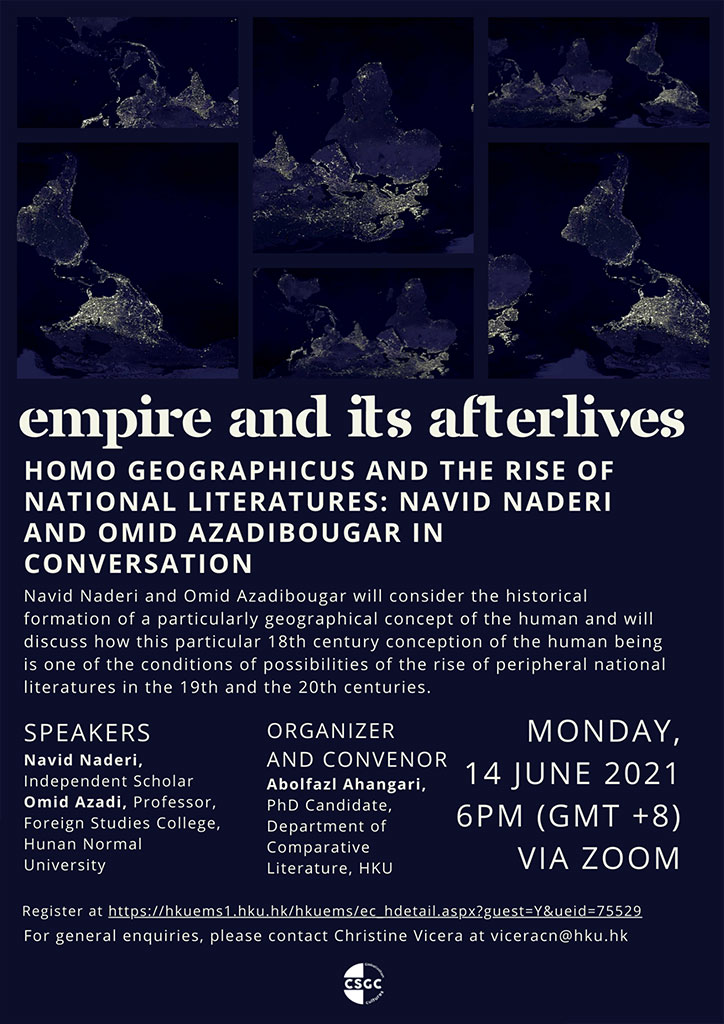 Time
6:00 pm - 7:30 pm
Labels
Department of Comparative Literature
Department of Comparative Literature
Center for the Study of Globalization and Cultures
Empire and Its Afterlives – Homo Geographicus and the Rise of National Literatures: Navid Naderi and Omid Azadibougar in conversation
Date: 14 June 2021 (Wednesday)
Time: 6 PM Hong Kong Time (GMT +8)
via Zoom
Navid Naderi and Omid Azadibougar will consider the historical formation of a particularly geographical concept of the human and will discuss how this particular 18th century conception of the human being is one of the conditions of possibilities of the rise of peripheral national literatures in the 19th and the 20th centuries.
About the Speakers
Navid Naderi is an independent scholar and an underpayed adjunct working at different universities in Tehran, Iran. He has worked and written in the fields of linguistics and world literature. He is currently working on a collection of essays (in Persian) about the emergence of Persian literature as a national literature out of the spirit of geography, ethnography, and world literature.
Omid Azadibougar is Professor of Comparative Literature at Hunan Normal University, China. He is the author of The Persian Novel: Ideology, Fiction and Form in the Periphery (2014) and World Literature and Hedayat's Poetics of Modernity (2020), and a co-editor of Persian Literature as World Literature (2021).
Organised and convened by Abolfazl Ahangari (PhD student, Department of Comparative Literature, HKU)
For updates on future events hosted by the Center for the Study of Globalization and Cultures, please visit https://csgchku.wordpress.com/
Follow us on:
– Facebook: https://www.facebook.com/csgc.hku
– Instagram: @csgc.hku
– Twitter: @csgchku
Please register at https://hkuems1.hku.hk/hkuems/ec_hdetail.aspx?guest=Y&ueid=75529
All are welcome. For enquiries, please contact Christine Vicera at viceracn@hku.hk