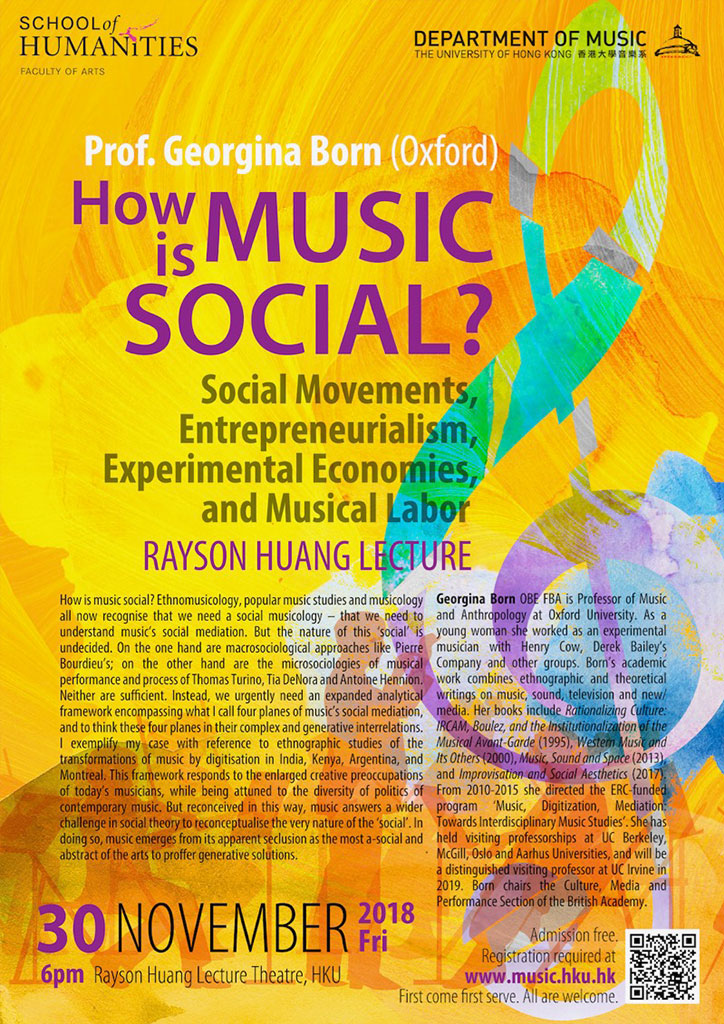 Date
Nov 30 2018
Time
6:00 pm
Labels
Department of Music
Department of Music
How is Music Social? Social Movements, Entrepreneurialism, Experimental Economies, and Musical Labor
Speaker: Professor Georgina Born
University of Oxford
Date: 30 November, 2018 (Friday)
Time: 6:00pm
Venue: Rayson Huang Theatre, Main Campus, HKU
Abstract:
How is music social? Ethnomusicology, popular music studies and musicology all now recognise that we need a social musicology – that we need to understand music's social mediation. But the nature of this 'social' is undecided. On the one hand are macrosociological approaches like Pierre Bourdieu's; on the other hand are the microsociologies of musical performance and process of Thomas Turino, Tia DeNora and Antoine Hennion. Neither are sufficient. Instead, we urgently need an expanded analytical framework encompassing what I call four planes of music's social mediation, and to think these four planes in their complex and generative interrelations. I exemplify my case with reference to ethnographic studies of the transformations of music by digitisation in India, Kenya, Argentina, and Montreal. This framework responds to the enlarged creative preoccupations of today's musicians, while being attuned to the diversity of politics of contemporary music. But reconceived in this way, music answers a wider challenge in social theory to reconceptualise the very nature of the 'social'. In doing so, music emerges from its apparent seclusion as the most a-social and abstract of the arts to proffer generative solutions.
About the Speaker:
Georgina Born OBE FBA is Professor of Music and Anthropology at Oxford University. As a young woman she worked as an experimental musician with Henry Cow, Derek Bailey's Company and other groups. Born's academic work combines ethnographic and theoretical writings on music, sound, television and new/media. Her books include Rationalizing Culture: IRCAM, Boulez, and the Institutionalization of the Musical Avant-Garde (1995), Western Music and Its Others (2000), Music, Sound and Space (2013), and Improvisation and Social Aesthetics (2017). From 2010-2015 she directed the ERC-funded program 'Music, Digitization, Mediation: Towards Interdisciplinary Music Studies'. She has held visiting professorships at UC Berkeley, McGill, Oslo and Aarhus Universities, and will be a distinguished visiting professor at UC Irvine in 2019. Born chairs the Culture, Media and Performance Section of the British Academy.
Admission is free. First come, first served. Lecture will be conducted in English. Please click here to register.
For enquiry, please contact the Department of Music at 3917-7045 or music@hku.hk