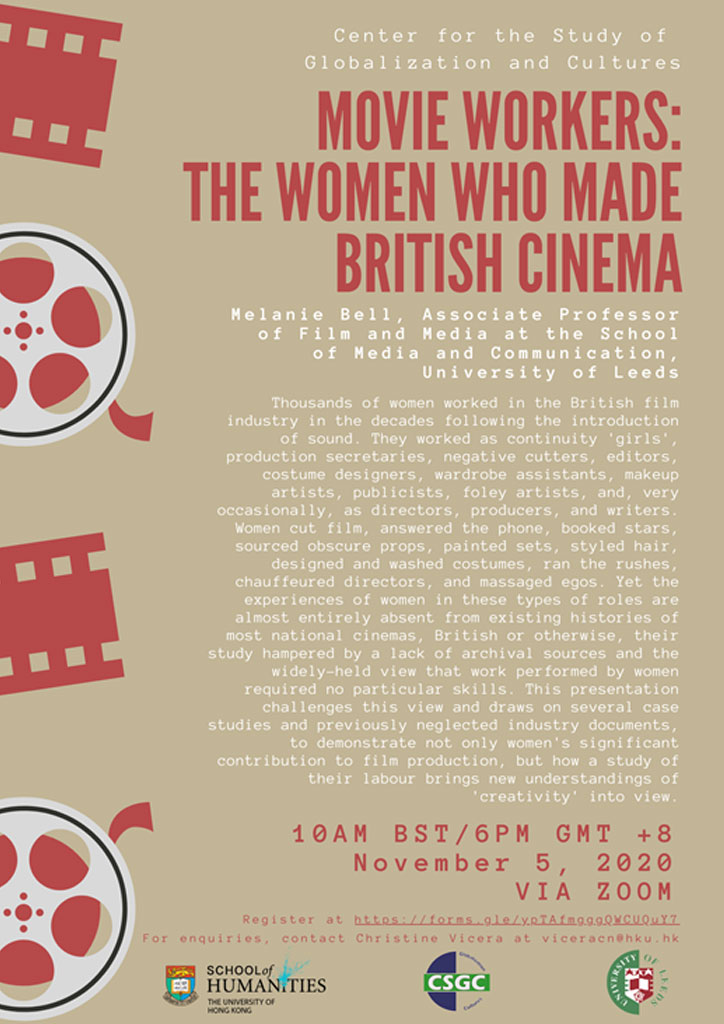 Time
6:00 pm
Labels
Department of Comparative Literature
Department of Comparative Literature
Movie Workers: The Women Who Made British Cinema
Date: Thursday, 5 November 2020
Time: 10 AM (BST) / 6 PM (GMT +8)
Speaker: Melanie Bell, Associate Professor of Film and Media Studies, School of Media and Communication, University of Leeds
Please register at https://forms.gle/ypTAfmgggQWCUQuY7 for Zoom Meeting ID
Thousands of women worked in the British film industry in the decades following the introduction of sound. They worked as continuity 'girls', production secretaries, negative cutters, editors, costume designers, wardrobe assistants, makeup artists, publicists, foley artists, and, very occasionally, as directors, producers, and writers. Women cut film, answered the phone, booked stars, sourced obscure props, painted sets, styled hair, designed and washed costumes, ran the rushes, chauffeured directors, and massaged egos. Yet the experiences of women in these types of roles are almost entirely absent from existing histories of most national cinemas, British or otherwise, their study hampered by a lack of archival sources and the widely-held view that work performed by women required no particular skills. This presentation challenges this view and draws on several case studies and previously neglected industry documents, to demonstrate not only women's significant contribution to film production, but how a study of their labour brings new understandings of 'creativity' into view.
About the Speaker:
Melanie Bell is an Associate Professor of Film and Media at the School of Media and Communication, University of Leeds (UK). She is the author of Julie Christie: A Study of Star Labour (BFI, 2016) and co-editor of British Women's Cinema (Palgrave, 2010), among other publications. Her essay on the foley artist Beryl Mortimer, published in Screen (58, pp. 437-457) won the British Association of Film, Television and Screen Studies (BAFTSS) Prize for Best Article in a Refereed Journal (2019). She serves on the Council for the International Association for Media and History (IAMHIST) and specialises in historical and contemporary accounts of women's work in media production, especially in British film.
Moderator: Gina Marchetti, Professor, Department of Comparative Literature, HKU
Please register at the link above. The Zoom link will be sent to you a day before the event.
For enquiries, please contact Christine Vicera at viceracn@hku.hk