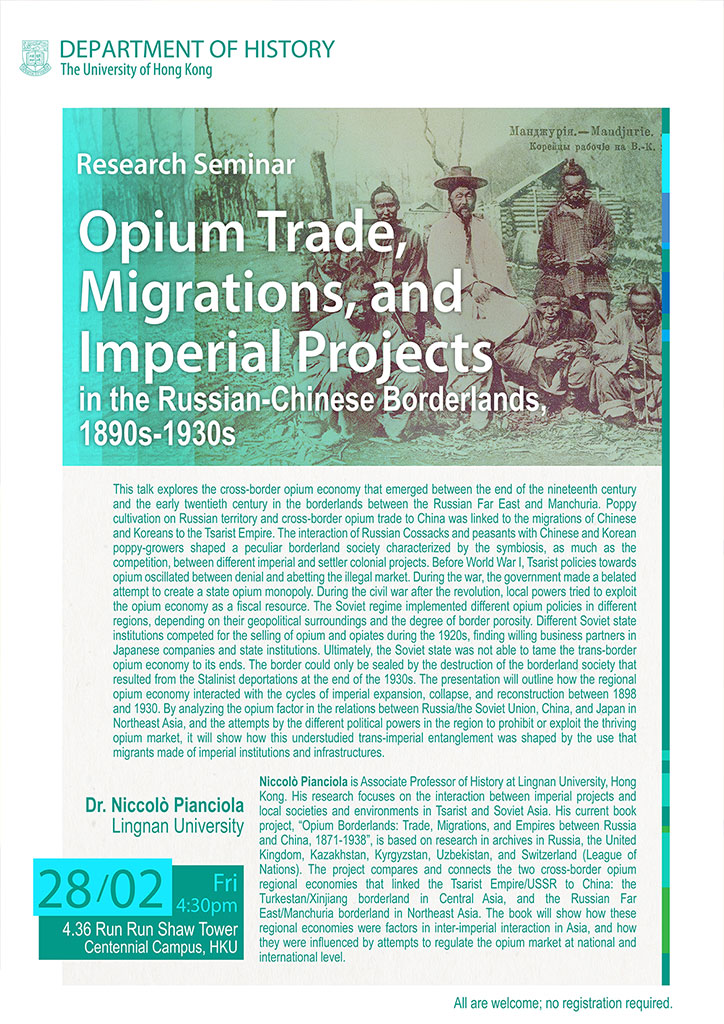 Time
4:30 pm - 6:00 pm
Labels
Department of History
Department of History (Cancelled)
* We regret to inform you that this event will be rescheduled. The new date and time will be announced in due course. *
Opium Trade, Migrations, and Imperial Projects in the Russian-Chinese Borderlands, 1890s-1930s
Speaker : Dr. Niccolò Pianciola
Lingnan University, Hong Kong
This talk explores the cross-border opium economy that emerged between the end of the nineteenth century and the early twentieth century in the borderlands between the Russian Far East and Manchuria. Poppy cultivation on Russian territory and cross-border opium trade to China was linked to the migrations of Chinese and Koreans to the Tsarist Empire. The interaction of Russian Cossacks and peasants with Chinese and Korean poppy-growers shaped a peculiar borderland society characterized by the symbiosis, as much as the competition, between different imperial and settler colonial projects. Before World War I, Tsarist policies towards opium oscillated between denial and abetting the illegal market. During the war, the government made a belated attempt to create a state opium monopoly. During the civil war after the revolution, local powers tried to exploit the opium economy as a fiscal resource. The Soviet regime implemented different opium policies in different regions, depending on their geopolitical surroundings and the degree of border porosity. Different Soviet state institutions competed for the selling of opium and opiates during the 1920s, finding willing business partners in Japanese companies and state institutions. Ultimately, the Soviet state was not able to tame the trans-border opium economy to its ends. The border could only be sealed by the destruction of the borderland society that resulted from the Stalinist deportations at the end of the 1930s. The presentation will outline how the regional opium economy interacted with the cycles of imperial expansion, collapse, and reconstruction between 1898 and 1930. By analyzing the opium factor in the relations between Russia/the Soviet Union, China, and Japan in Northeast Asia, and the attempts by the different political powers in the region to prohibit or exploit the thriving opium market, it will show how this understudied trans-imperial entanglement was shaped by the use that migrants made of imperial institutions and infrastructures.
Niccolò Pianciola is Associate Professor of History at Lingnan University, Hong Kong. His research focuses on the interaction between imperial projects and local societies and environments in Tsarist and Soviet Asia. His current book project, "Opium Borderlands: Trade, Migrations, and Empires between Russia and China, 1871-1938", is based on research in archives in Russia, the United Kingdom, Kazakhstan, Kyrgyzstan, Uzbekistan, and Switzerland (League of Nations). The project compares and connects the two cross-border opium regional economies that linked the Tsarist Empire/USSR to China: the Turkestan/Xinjiang borderland in Central Asia, and the Russian Far East/Manchuria borderland in Northeast Asia. The book will show how these regional economies were factors in inter-imperial interaction in Asia, and how they were influenced by attempts to regulate the opium market at national and international level.
All are welcome. No registration is required.
Date/Time: Friday 28/02/2020 16:30 – 18:00
Venue: Room 4.34, Run Run Shaw Tower, Centennial Campus
Language: English
For further information, please visit: https://www.history.hku.hk/news_s19_pianciola.html