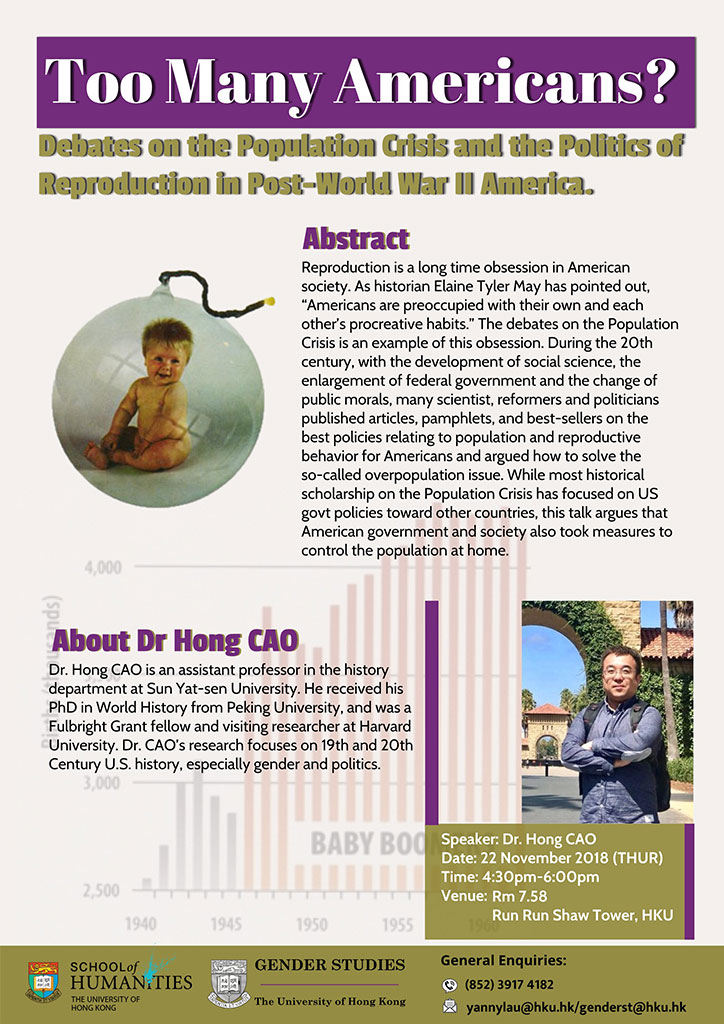 Date
Nov 22 2018
Time
4:30 pm - 6:30 pm
Labels
Gender Studies Programme
Gender Studies Programme
Too Many Americans?
Debates on the Population Crisis and the Politics of Reproduction in Post-World War II America.
Speaker: Dr Hong CAO
(Assistant Professor, Department of History at Sun Yat-sen University)
Reproduction is a long time obsession in American society. As historian Elaine Tyler May has pointed out, "Americans are preoccupied with their own and each other's procreative habits." The debates on the Population Crisis is an example of this obsession. During the 20thcentury, with the development of social science, the enlargement of federal government and the change of public morals, many scientist, reformers and politicians published articles, pamphlets, and best-sellers on the best policies relating to population and reproductive behavior for Americans and argued how to solve the so-called overpopulation issue. While most historical scholarship on the Population Crisis has focused on US govt policies toward other countries, this talk argues that American government and society also took measures to control the population at home.
Dr. Hong CAO is an assistant professor in the history department at Sun Yat-sen University. He received his PhD in World History from Peking University, and was a Fulbright Grant fellow and visiting researcher at Harvard University. Dr. CAO's research focuses on 19th and 20th Century U.S. history, especially gender and politics.
Date: Thursday 22 November 2018
Time: 4:30pm
Venue: Room 7.58, 7/F, Run Run Shaw Tower, Centennial Campus, HKU
All are welcome. Please register online HERE
For enquires: genderst@hku.hk/39174182
For further information, please visit: https://genderstudies.hku.hk/events/too-many-americans-debates-on-the-population-crisis- and-the-politics-of-reproduction-in-post-world-war-ii-america/