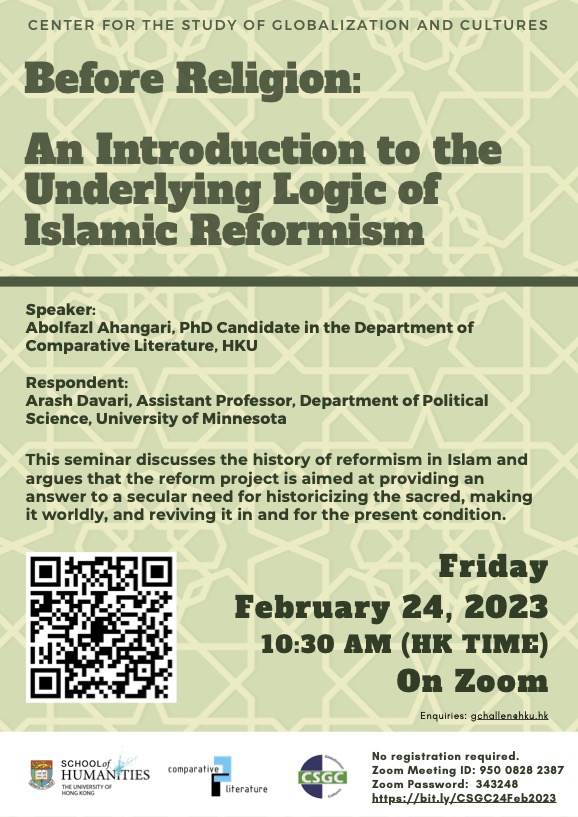 Time
10:30 am - 12:00 pm
Labels
Department of Comparative Literature
Department of Comparative Literature
Before Religion: An Introduction to the Underlying Logic of Islamic Reformism
Speaker:
Abolfazl Ahangari, PhD Candidate in the Department of Comparative Literature, HKU
Respondent:
Arash Davari, Assistant Professor, Department of Political Science, University of Minnesota
Date: Friday, February 24, 2023
Time: 10:30 am Hong Kong Time
Venue: On Zoom
All are welcome. No registration required.
https://hku.zoom.us/j/95008282387?pwd=Nk1FWHhtbmJEYnZqeU9RcGRCSW0xZz09
Meeting ID: 950 0828 2387
Password: 343248
This seminar discusses the history of reformism in Islam and argues that the reform project is aimed at providing an answer to a secular need for historicizing the sacred, making it worldly, and reviving it in and for the present condition.
Enquiries: Georgina Challen – gchallen@hku.hk
Visit our website: https://csgchku.wordpress.com/