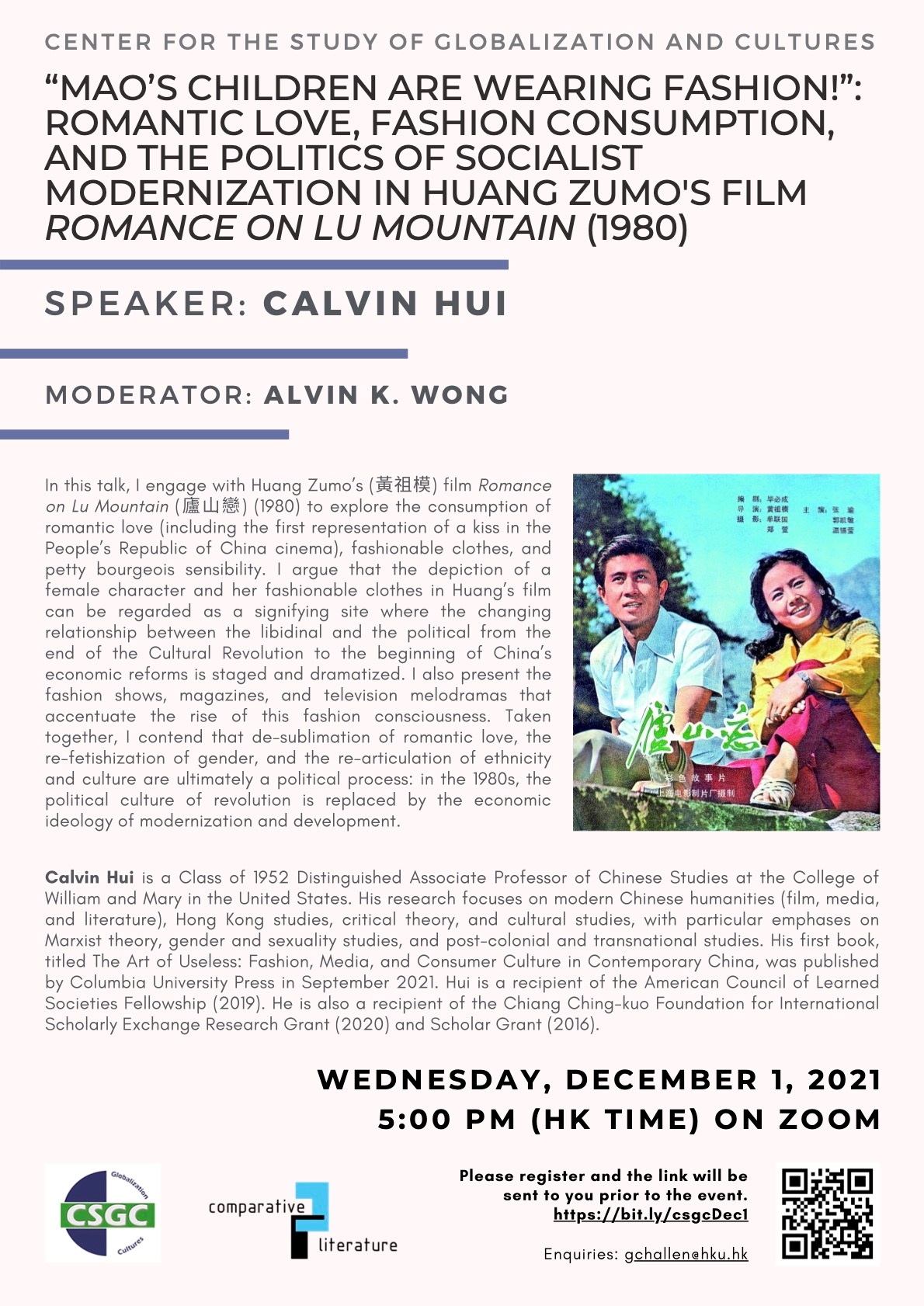 Time
5:00 pm - 6:30 pm
Labels
Department of Comparative Literature
Department of Comparative Literature
"Mao's Children are Wearing Fashion!": Romantic Love, Fashion Consumption, and the Politics of Socialist Modernization in Huang Zumo's Film Romance on Lu Mountain (1980)
Speaker:
Calvin Hui, Class of 1952 Distinguished Associate Professor of Chinese Studies, College of
William and Mary
Moderator:
Alvin K. Wong, Assistant Professor, Department of Comparative Literature, School of Humanities, HKU
Date: Wednesday, December 1, 2021
Time: 5:00 pm Hong Kong Time
Venue: On Zoom
All are welcome. Please register and the link will be sent to you before the event.
In this talk, I engage with Huang Zumo's (黃祖模) film Romance on Lu Mountain (廬山戀) (1980) to explore the consumption of romantic love (including the first representation of a kiss in the People's Republic of China cinema), fashionable clothes, and petty bourgeois sensibility. I argue that the depiction of a female character and her fashionable clothes in Huang's film can be regarded as a signifying site where the changing relationship between the libidinal and the political from the end of the Cultural Revolution to the beginning of China's economic reforms is staged and dramatized. I also present the fashion shows, magazines, and television melodramas that accentuate the rise of this fashion consciousness. Taken together, I contend that de-sublimation of romantic love, the re-fetishization of gender, and the re-articulation of ethnicity and culture are ultimately a political process: in the 1980s, the political culture of revolution is replaced by the economic ideology of modernization and development.
Calvin Hui is a Class of 1952 Distinguished Associate Professor of Chinese Studies at the College of William and Mary in the United States. His research focuses on modern Chinese humanities (film, media, and literature), Hong Kong studies, critical theory, and cultural studies, with particular emphases on Marxist theory, gender and sexuality studies, and post-colonial and transnational studies. His first book, titled The Art of Useless: Fashion, Media, and Consumer Culture in Contemporary China, was published by Columbia University Press in September 2021. Hui is a recipient of the American Council of Learned Societies Fellowship (2019). He is also a recipient of the Chiang Ching-kuo Foundation for International Scholarly Exchange Research Grant (2020) and Scholar Grant (2016).
Enquiries: Georgina Challen – gchallen@hku.hk