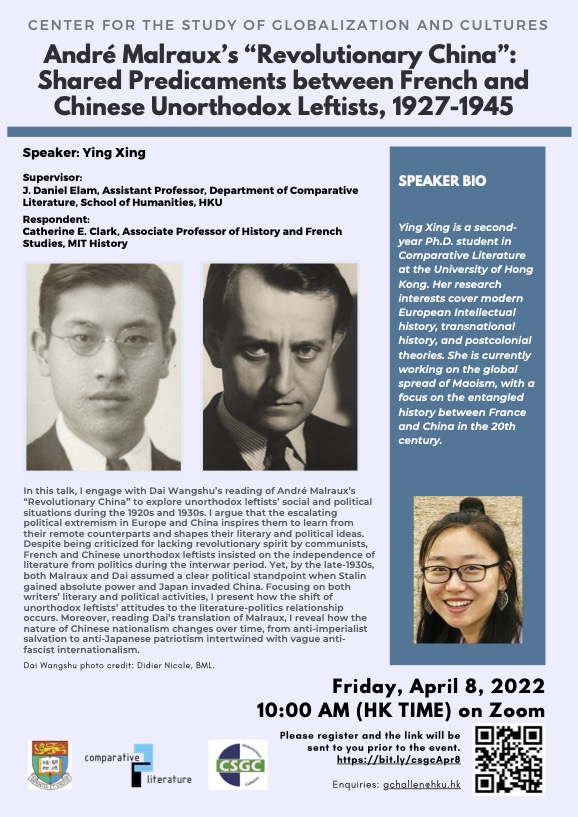 Time
10:00 am - 12:30 pm
Labels
Department of Comparative Literature
Department of Comparative Literature
André Malraux's "Revolutionary China": Shared Predicaments between French and Chinese Unorthodox Leftists, 1927-1945
Speaker:
Ying Xing, PhD student in the Department of Comparative Literature, HKU
Supervisor:
Daniel Elam, Assistant Professor, Department of Comparative Literature, School of Humanities, HKU
Respondent:
Catherine E. Clark, Associate Professor of History and French Studies, MIT History
Date: Friday, April 8, 2022
Time: 10:00 am Hong Kong Time
Venue: On Zoom
All are welcome. Please register and the link will be sent to you before the event.
In this talk, I engage with Dai Wangshu's reading of André Malraux's "Revolutionary China" to explore unorthodox leftists' social and political situations during the 1920s and 1930s. I argue that the escalating political extremism in Europe and China inspires them to learn from their remote counterparts and shapes their literary and political ideas. Despite being criticized for lacking revolutionary spirit by communists, French and Chinese unorthodox leftists insisted on the independence of literature from politics during the interwar period. Yet, by the late-1930s, both Malraux and Dai assumed a clear political standpoint when Stalin gained absolute power and Japan invaded China. Focusing on both writers' literary and political activities, I present how the shift of unorthodox leftists' attitudes to the literature-politics relationship occurs. Moreover, reading Dai's translation of Malraux, I reveal how the nature of Chinese nationalism changes over time, from anti-imperialist salvation to anti-Japanese patriotism intertwined with vague anti-fascist internationalism.
Ying Xing is a second-year Ph.D. student in Comparative Literature at the University of Hong Kong. Her research interests cover modern European Intellectual history, transnational history, and postcolonial theories. She is currently working on the global spread of Maoism, with a focus on the entangled history between France and China in the 20th century.
Enquiries: Georgina Challen – gchallen@hku.hk