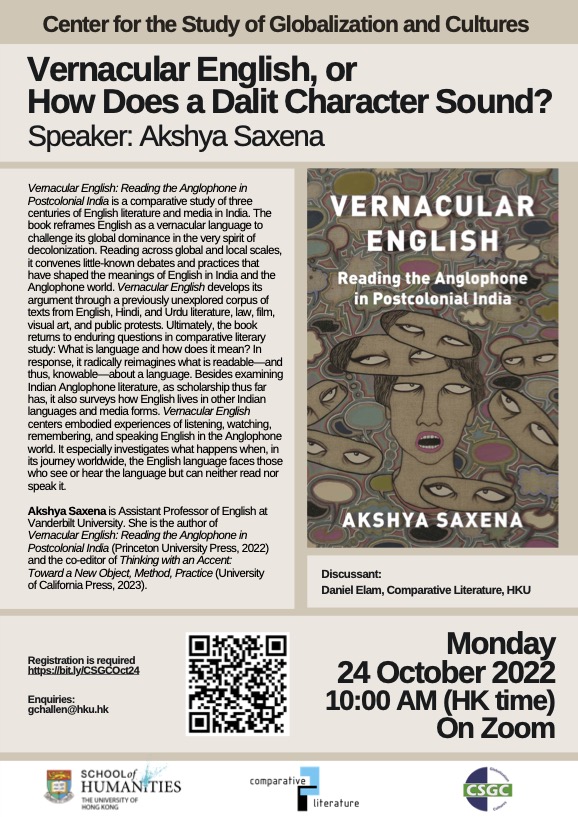 Time
10:00 am - 11:30 pm
Labels
Department of Comparative Literature
Department of Comparative Literature
Vernacular English, or How Does a Dalit Character Sound?
Speaker:
Dr. Akshya Saxena, Assistant Professor of English, Vanderbilt University
Discussant:
Dr. Daniel Elam, Assistant Professor, Department of Comparative Literature, HKU
Date: Monday, October 24, 2022
Time: 10:00 am (Hong Kong Time)
Venue: On Zoom
All are welcome. Registration is required.
"Vernacular English: Reading the Anglophone in Postcolonial India" is a comparative study of three centuries of English literature and media in India. The book reframes English as a vernacular language to challenge its global dominance in the very spirit of decolonization. Reading across global and local scales, it convenes little-known debates and practices that have shaped the meanings of English in India and the Anglophone world. "Vernacular English" develops its argument through a previously unexplored corpus of texts from English, Hindi, and Urdu literature, law, film, visual art, and public protests. Ultimately, the book returns to enduring questions in comparative literary study: What is language and how does it mean? In response, it radically reimagines what is readable—and thus, knowable—about a language. Besides examining Indian Anglophone literature, as scholarship thus far has, it also surveys how English lives in other Indian languages and media forms. "Vernacular English" centers embodied experiences of listening, watching, remembering, and speaking English in the Anglophone world. It especially investigates what happens when, in its journey worldwide, the English language faces those who see or hear the language but can neither read nor speak it.
Akshya Saxena is Assistant Professor of English at Vanderbilt University. She is the author of "Vernacular English: Reading the Anglophone in Postcolonial India" (Princeton University Press, 2022) and the co-editor of "Thinking with an Accent: Toward a New Object, Method, Practice" (University of California Press, 2023).
Enquiries: Georgina Challen – gchallen@hku.hk