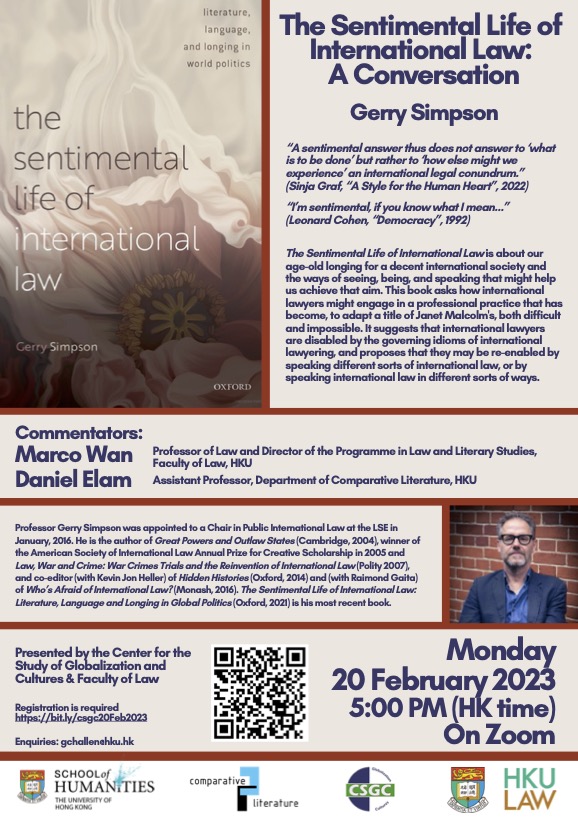 Time
5:00 pm - 6:30 pm
Labels
Department of Comparative Literature
Department of Comparative Literature
The Sentimental Life of International Law: A Conversation

Speaker:
Gerry Simpson, Professor of Public International Law, LSE Law School, London School of Economics
Commentators:
Marco Wan, Professor of Law and Director of the Programme in Law and Literary Studies, Faculty of Law, The University of Hong Kong
Daniel Elam, Assistant Professor, Department of Comparative Literature, The University of Hong Kong
Date: Monday, February 20, 2023
Time: 5:00 pm (Hong Kong Time)
Venue: On Zoom
All are welcome. Registration is required.
"A sentimental answer thus does not answer to 'what is to be done' but rather to 'how else might we experience' an international legal conundrum." (Sinja Graf, "A Style for the Human Heart", 2022)
"I'm sentimental, if you know what I mean…" (Leonard Cohen, "Democracy", 1992)
"The Sentimental Life of International Law" is about our age-old longing for a decent international society and the ways of seeing, being, and speaking that might help us achieve that aim. This book asks how international lawyers might engage in a professional practice that has become, to adapt a title of Janet Malcolm's, both difficult and impossible. It suggests that international lawyers are disabled by the governing idioms of international lawyering, and proposes that they may be re-enabled by speaking different sorts of international law, or by speaking international law in different sorts of ways.
Gerry Simpson was appointed to a Chair in Public International Law at the LSE in January, 2016. He is the author of "Great Powers and Outlaw States" (Cambridge, 2004), winner of the American Society of International Law Annual Prize for Creative Scholarship in 2005 and "Law, War and Crime: War Crimes Trials and the Reinvention of International Law" (Polity 2007), and co-editor (with Kevin Jon Heller) of "Hidden Histories" (Oxford, 2014) and (with Raimond Gaita) of "Who's Afraid of International Law?" (Monash, 2016). His most recent book is "The Sentimental Life of International Law: Literature, Language and Longing in Global Politics" (Oxford, 2021).
Marco Wan is Professor of Law and Director of the Programme in Law and Literary Studies, Faculty of Law, at the University of Hong Kong. His research focuses on the intersections between law and the humanities, especially law and literature, law and film, and the ways in which perspectives from the humanities shed light on the legal regulation of gender and sexuality. His most recent book, "Film and Constitutional Controversy" (Cambridge, 2021) explores how constitutional debates are refracted in Hong Kong cinema.
Daniel Elam is an Assistant Professor in the Department of Comparative Literature at the University of Hong Kong. He specialises in transnational Asian and African literatures in the twentieth century, modernism, postcolonial theory, and global intellectual history. He is the author of "World Literature for the Wretched of the Earth" (Fordham, 2020) and "Impossible and Necessary" (Orient BlackSwan, 2020).
Enquiries: Georgina Challen – gchallen@hku.hk