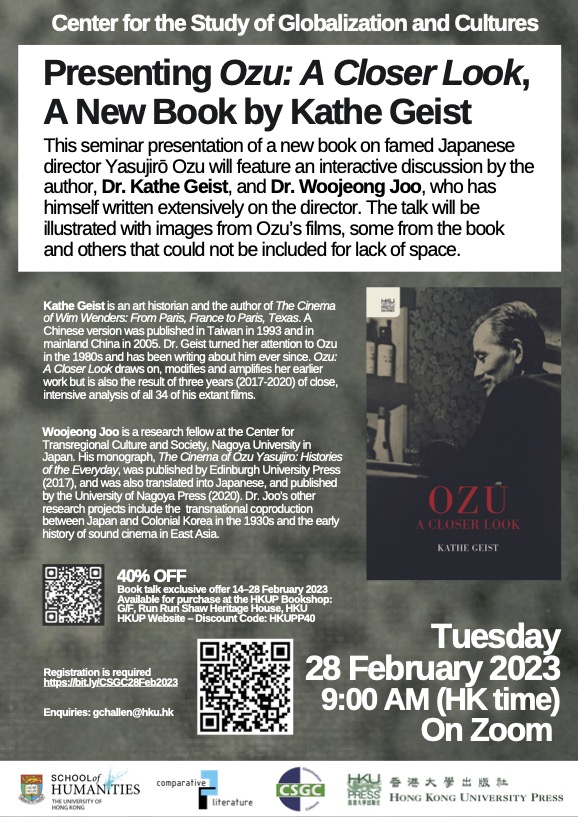 Time
9:00 am - 10:30 am
Labels
Department of Comparative Literature
Department of Comparative Literature
Presenting Ozu: A Closer Look, A New Book by Kathe Geist
Dr. Kathe Geist in conversation with Dr. Woojeong Joo
Date: Tuesday, February 28, 2023
Time: 9:00 am (Hong Kong Time)
Venue: On Zoom
All are welcome. Registration is required.
This seminar presentation of a new book on famed Japanese director Yasujirō Ozu will feature an interactive discussion by the author, Dr. Kathe Geist, and Dr. Woojeong Joo, who has himself written extensively on the director. The talk will be illustrated with images from Ozu's films, some from the book and others that could not be included for lack of space.
Kathe Geist is an art historian and the author of The Cinema of Wim Wenders: From Paris, France to Paris, Texas. A Chinese version was published in Taiwan in 1993 and in mainland China in 2005. Dr. Geist turned her attention to Ozu in the 1980s and has been writing about him ever since. Ozu: A Closer Look draws on, modifies and amplifies her earlier work but is also the result of three years (2017-2020) of close, intensive analysis of all 34 of his extant films.
Woojeong Joo is a research fellow at the Center for Transregional Culture and Society, Nagoya University in Japan. His monograph, The Cinema of Ozu Yasujiro: Histories of the Everyday, was published by Edinburgh University Press (2017), and was also translated into Japanese, and published by the University of Nagoya Press (2020). Dr. Joo's other research projects include the  transnational coproduction between Japan and Colonial Korea in the 1930s and the early history of sound cinema in East Asia.
HKU Press has an exclusive offer of 40% off for purchases of Ozu: A Closer Look during the period 14 to 28 February 2023. The offer is available for purchases made through the HKU Press website (discount code HKUPP40)  and in person purchases at the HKUP Bookshop, G/F, Run Run Shaw Heritage House, Centennial Campus, HKU. (https://hkupress.hku.hk/index.php?route=product/product&product_id=1591)
Enquiries: Georgina Challen – gchallen@hku.hk