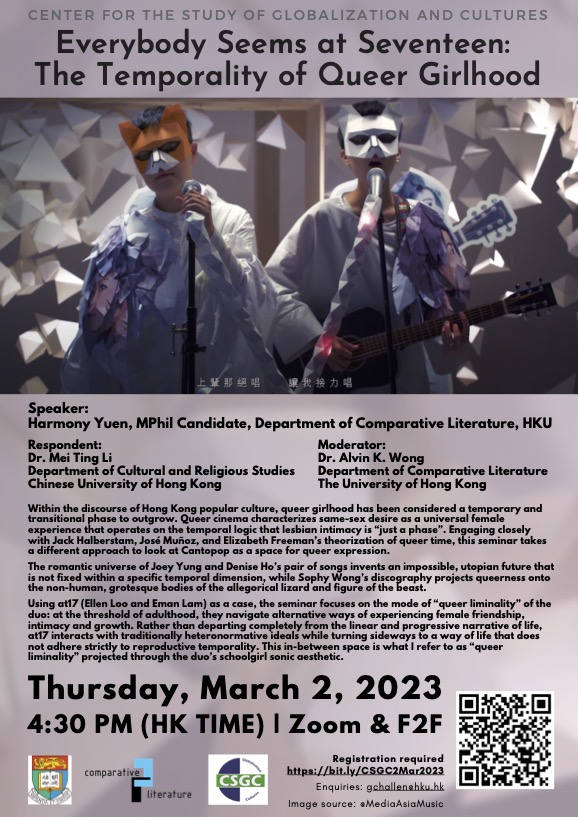 Time
4:30 pm - 6:00 pm
Labels
Department of Comparative Literature
Department of Comparative Literature
Everybody Seems at Seventeen: The Temporality of Queer Girlhood
Speaker:
Harmony Yuen, MPhil Candidate in Comparative Literature, HKU
Respondent:
Dr. Mei Ting Li, Department of Cultural and Religious Studies, Chinese University of Hong Kong
Moderator:
Dr. Alvin K. Wong, Department of Comparative Literature, HKU
Date: Thursday, March 2, 2023
Time: 4:30 pm Hong Kong Time
Venue: F2F and On Zoom
All are welcome. Registration is required.
For registrants who select Zoom, we will send you the link prior to the event. For registrants who select Face-to-Face (F2F), we will write to you prior to the event with the venue location. There is a limited quota for F2F and we apologise if we are unable to accommodate all requests.
Within the discourse of Hong Kong popular culture, queer girlhood has been considered a temporary and transitional phase to outgrow. Queer cinema characterizes same-sex desire as a universal female experience that operates on the temporal logic that lesbian intimacy is "just a phase". Engaging closely with Jack Halberstam, José Muñoz, and Elizabeth Freeman's theorization of queer time, this seminar takes a different approach to look at Cantopop as a space for queer expression.
The romantic universe of Joey Yung and Denise Ho's pair of songs invents an impossible, utopian future that is not fixed within a specific temporal dimension, while Sophy Wong's discography projects queerness onto the non-human, grotesque bodies of the allegorical lizard and figure of the beast.
Using at17 (Ellen Loo and Eman Lam) as a case, the seminar focuses on the mode of "queer liminality" of the duo: at the threshold of adulthood, they navigate alternative ways of experiencing female friendship, intimacy and growth. Rather than departing completely from the linear and progressive narrative of life, at17 interacts with traditionally heteronormative ideals while turning sideways to a way of life that does not adhere strictly to reproductive temporality. This in-between space is what I refer to as "queer liminality" projected through the duo's schoolgirl sonic aesthetic.
Harmony Yuen is a 2nd year MPhil candidate in the Department of Comparative Literature at the University of Hong Kong.
Enquiries: Georgina Challen – gchallen@hku.hk
Visit our website: https://csgchku.wordpress.com/
Image source: @MediaAsiaMusic