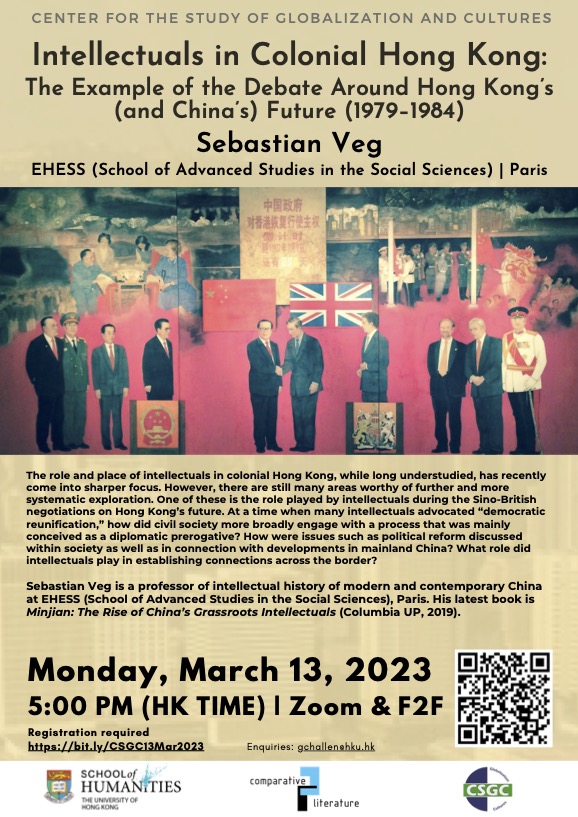 Time
5:00 pm - 6:30 pm
Labels
Department of Comparative Literature
Department of Comparative Literature
Intellectuals in Colonial Hong Kong:
The Example of the Debate Around Hong Kong's (and China's) Future (1979-1984)

Speaker:
Professor Sebastian Veg, Centre for Historical Research, EHESS (School of Advanced Studies in the Social Sciences), Paris
Date: Monday, March 13, 2023
Time: 5:00 pm (Hong Kong Time)
Venue: On Zoom and Face-to-Face
All are welcome. Registration is required.
The role and place of intellectuals in colonial Hong Kong, while long understudied, has recently come into sharper focus. However, there are still many areas worthy of further and more systematic exploration. One of these is the role played by intellectuals during the Sino-British negotiations on Hong Kong's future. At a time when many intellectuals advocated "democratic reunification," how did civil society more broadly engage with a process that was mainly conceived as a diplomatic prerogative? How were issues such as political reform discussed within society as well as in connection with developments in mainland China? What role did intellectuals play in establishing connections across the border?
Sebastian Veg is a professor of intellectual history of modern and contemporary China at EHESS (School of Advanced Studies in the Social Sciences), Paris. His latest book is "Minjian: The Rise of China's Grassroots Intellectuals" (Columbia UP, 2019).
For registrants who select Zoom, we will send you the link prior to the event. For registrants who select Face-to-Face (F2F), we will write to you prior to the event with the venue location. There is a limited quota for F2F and we apologise if we are unable to accommodate all requests.
Enquiries: Georgina Challen – gchallen@hku.hk