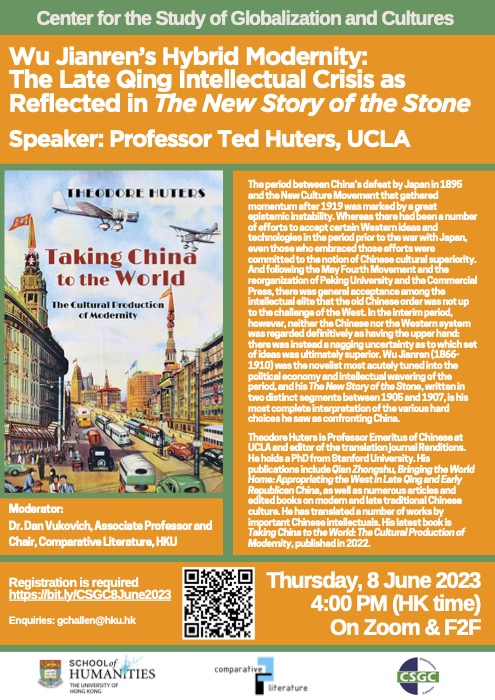 Time
4:00 pm - 5:30 pm
Labels
Department of Comparative Literature
Department of Comparative Literature
Wu Jianren's Hybrid Modernity: The Late Qing Intellectual Crisis as Reflected in "The New Story of the Stone"
Speaker:
Professor Theodore Huters, Professor Emeritus of Chinese, UCLA
Moderator:
Dr. Daniel Vukovich, Associate Professor and Chair, Department of Comparative Literature, HKU
Date: Thursday, June 8, 2023
Time: 4:00 pm (Hong Kong Time)
Venue: On Zoom and Face-to-Face
All are welcome. Registration is required.
The period between China's defeat by Japan in 1895 and the New Culture Movement that gathered momentum after 1919 was marked by a great epistemic instability. Whereas there had been a number of efforts to accept certain Western ideas and technologies in the period prior to the war with Japan, even those who embraced those efforts were committed to the notion of Chinese cultural superiority. And following the May Fourth Movement and the reorganization of Peking University and the Commercial Press, there was general acceptance among the intellectual elite that the old Chinese order was not up to the challenge of the West. In the interim period, however, neither the Chinese nor the Western system was regarded definitively as having the upper hand: there was instead a nagging uncertainty as to which set of ideas was ultimately superior. Wu Jianren (1866-1910) was the novelist most acutely tuned into the political economy and intellectual wavering of the period, and his "The New Story of the Stone," written in two distinct segments between 1905 and 1907, is his most complete interpretation of the various hard choices he saw as confronting China. While in the work he recognizes, often only indirectly, the power of Western science, after setting out China's problems in the first half of the novel, in the second half he deploys the tropes of science fiction in an attempt to prove the superiority and potential of Chinese cultural values. The supreme difficulty of this effort is mirrored in the contradictions and inconsistencies that surface in the text.
Theodore Huters is Professor Emeritus of Chinese at UCLA and editor of the translation journal Renditions. He holds a PhD from Stanford University. His publications include "Qian Zhongshu, Bringing the World Home: Appropriating the West in Late Qing and Early Republican China," as well as numerous articles and edited books on modern and late traditional Chinese culture. He has translated a number of works by important Chinese intellectuals. His latest book is "Taking China to the World: The Cultural Production of Modernity," published in 2022.
Enquiries: Georgina Challen – gchallen@hku.hk