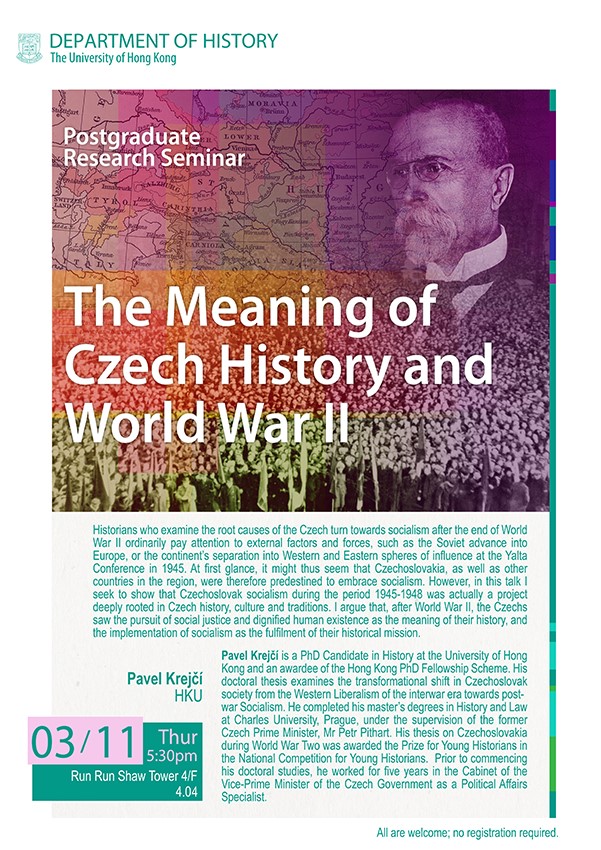 Time
5:30 pm - 7:00 pm
Labels
Department of History
Department of History
Title: THE MEANING OF CZECH HISTORY AND WORLD WAR II
Speaker: Pavel Krejčí (Dept. of History, HKU)
Date: November 3rd, 2022 (Thursday)
Time: 5:30pm (HKT)
Venue: Run Run Shaw Tower 4/F 4.04 (Face-to-face)
Historians who examine the root causes of the Czech turn towards socialism after the end of World War II ordinarily pay attention to external factors and forces, such as the Soviet advance into Europe, or the continent's separation into Western and Eastern spheres of influence at the Yalta Conference in 1945. At first glance, it might thus seem that Czechoslovakia, as well as other countries in the region, were therefore predestined to embrace socialism. However, in this talk I seek to show that Czechoslovak socialism during the period 1945-1948 was actually a project deeply rooted in Czech history, culture and traditions. I argue that, after World War II, the Czechs saw the pursuit of social justice and dignified human existence as the meaning of their history, and the implementation of socialism as the fulfilment of their historical mission.
Pavel Krejčí is a PhD Candidate in History at the University of Hong Kong and an awardee of the Hong Kong PhD Fellowship Scheme. His doctoral thesis examines the transformational shift in Czechoslovak society from the Western Liberalism of the interwar era towards post-war Socialism. He completed his master's degrees in History and Law at Charles University, Prague, under the supervision of the former Czech Prime Minister, Mr Petr Pithart. His thesis on Czechoslovakia during World War Two was awarded the Prize for Young Historians in the National Competition for Young Historians. Prior to commencing his doctoral studies, he worked for five years in the Cabinet of the Vice-Prime Minister of the Czech Government as a Political Affairs Specialist.
All are welcome. No registration required.