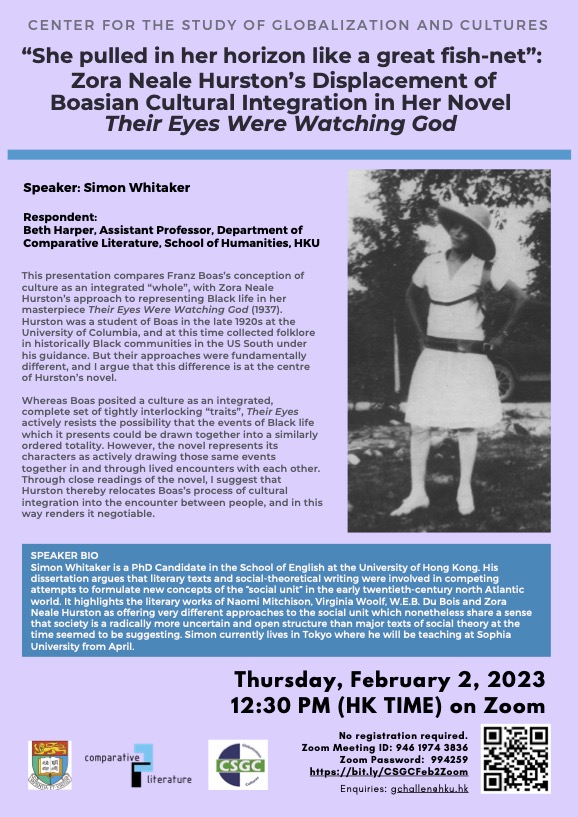 Time
12:30 pm - 2:00 pm
Labels
Department of Comparative Literature
Department of Comparative Literature
"She pulled in her horizon like a great fish-net": Zora Neale Hurston's Displacement of Boasian Cultural Integration in Her Novel "Their Eyes Were Watching God"
Speaker:
Simon Whitaker, PhD Candidate in the School of English, HKU
Respondent:
Beth Harper, Assistant Professor, Department of Comparative Literature, School of Humanities, HKU
Date: Thursday, February 2, 2023
Time: 12:30 pm Hong Kong Time
Venue: On Zoom
All are welcome. No registration required.
Join Zoom Meeting: https://bit.ly/CSGCFeb2Zoom
Meeting ID: 946 1974 3836
Password: 994259
This presentation compares Franz Boas's conception of culture as an integrated "whole", with Zora Neale Hurston's approach to representing Black life in her masterpiece "Their Eyes Were Watching God" (1937). Hurston was a student of Boas in the late 1920s at the University of Columbia, and at this time collected folklore in historically Black communities in the US South under his guidance. But their approaches were fundamentally different, and I argue that this difference is at the centre of Hurston's novel.
Whereas Boas posited a culture as an integrated, complete set of tightly interlocking "traits", "Their Eyes" actively resists the possibility that the events of Black life which it presents could be drawn together into a similarly ordered totality. However, the novel represents its characters as actively drawing those same events together in and through lived encounters with each other. Through close readings of the novel, I suggest that Hurston thereby relocates Boas's process of cultural integration into the encounter between people, and in this way renders it negotiable.
Simon Whitaker is a PhD Candidate in the School of English at the University of Hong Kong. His dissertation argues that literary texts and social-theoretical writing were involved in competing attempts to formulate new concepts of the "social unit" in the early twentieth-century north Atlantic world. It highlights the literary works of Naomi Mitchison, Virginia Woolf, W.E.B. Du Bois and Zora Neale Hurston as offering very different approaches to the social unit which nonetheless share a sense that society is a radically more uncertain and open structure than major texts of social theory at the time seemed to be suggesting. Simon currently lives in Tokyo where he will be teaching at Sophia University from April.
Enquiries: Georgina Challen – gchallen@hku.hk
Visit our website: [csgchku.wordpress.com/]https://csgchku.wordpress.com/